Speicher takes over Emmaus boys lacrosse team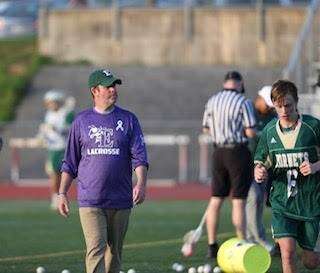 Published January 07. 2021 11:17AM
"I'm very excited to continue as a part of the Emmaus boys lacrosse coaching staff," said Speicher. "I'm also very thankful to Ms. [Becky] George, our athletic director, as I feel as though her selection as me as the new head coach is an acknowledgment of our program's past successes."
George is fully supportive of Speicher leading the way for the Green Hornets.
"I am fully confident Stu will continue to and improve upon the success of the Emmaus boys lacrosse program both on and off the field," said George. "He has much to do with bringing the sport to the Emmaus Community and he is ready to take on the head coaching role."
Speicher has worn many different hats, being a club head coach, an assistant at Parkland, as well as Emmaus's assistant the last seven years, and even a high school head coach at Saucon Valley for four years until 2010.
"I don't anticipate many differences in my role or responsibilities with the team," Speicher said. "I've previously served as both a head coach and an assistant coach, and always try to remain more focused on contributing to the team than focusing on my current title.
"I'm a tremendous believer in John Wooden's saying that 'amazing things can happen when no one cares who receives the credit'."
Speicher takes over for Desi Gonzalez as the next head coach. He follows a lineage of successful coaches that have brought league and district gold to Emmaus. He looks to follow suit.
"I've been so fortunate to have coached at Emmaus with Desi Gonzalez, Scott Ketcham, Christian Messler, and JD Wilson," said Speicher. "I could spend hours listing what I've learned from these coaches, but I've always been most impressed by how deeply they were committed to the athletes they coached. It also helped me incredibly that all four of these coaches had college coaching experience, previously had been head coaches, and knew how to run a lacrosse program."
His first season in charge this spring should not look any different to Emmaus boys lacrosse fans. The goal is still to win gold at the league and district level.
"Our biggest goal is to make smart and safe decisions in preparation for Spring 2021 and remain hopeful that we will have a season," Speicher said. "We have an outstanding senior class that is ready to roll.
"When we hopefully return to competition this spring, almost two years will have passed since our District 11 championship game victory in 2019, so we'll be playing in pursuit of 2021 victories rather than defending anything that occurred while everyone on our roster was an underclassman. We'll do our best to be a team that proudly represents our school and our sport."