O little town is a 'Best Of,' says Oprah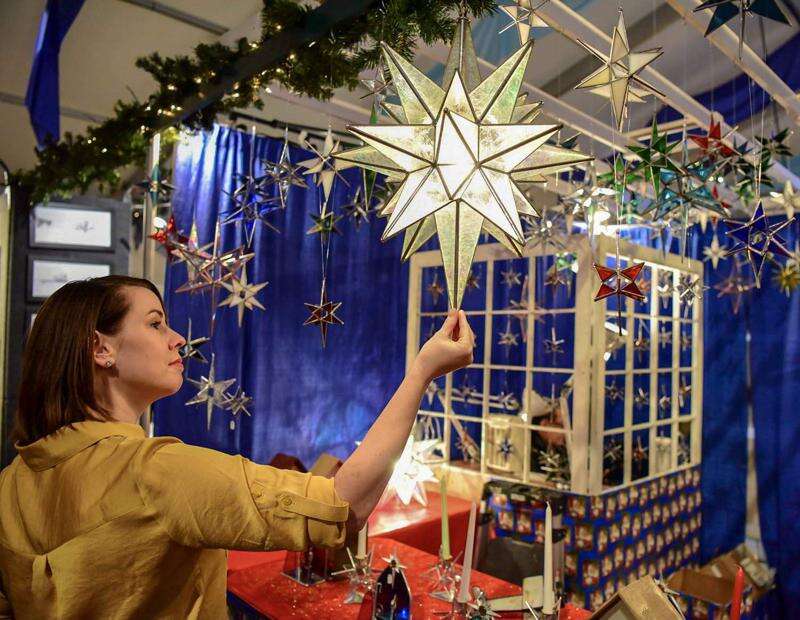 Published December 31. 2020 07:30PM
A live Advent calendar, German-inspired outdoor markets, traditional putzes and the iconic Star of Bethlehem on South Mountain are all part of what has given Bethlehem the nickname of "The Christmas City."
For the second year, the many holiday charms of Bethlehem caught the eye of media mogul Oprah Winfrey, who included the Christmas City in two "Best Of" lists on www.oprahmag.com, the online presence of Winfrey's O, The Oprah Magazine.
Bethlehem was named one of "28 Most Magical Christmas Towns and Villages Across the World" and one of "22 Best Christmas Getaways to Enjoy This Winter" by O.
The Bethlehem Chamber of Commerce has been working hard to raise the city's tourism profile and catching Oprah's attention for a second year is a big deal, says Chamber Vice President Angela DelGrosso.
"Last year, when Oprah listed us it was really exciting," says DelGrosso, adding, "It helped make it the busiest Christmas downtown ever."
Last year, Bethlehem was named one of "20 Best Places to Spend Christmas" by O. Also, Travel and Leisure online stated, "'This "Christmas City' in Pennsylvania Might Be the Most Festive in the Entire Country." The rave was shared by Martha Stewart online.
DelGrosso says that the positive publicity made last Christmas "a really crazy year," adding that Hotel Bethlehem and Hyatt Place Bethlehem reservations sold out after each article posted.
This year, Bethlehem is facing challenges because of the coronavirus (COVID-19) pandemic shutdown, but DelGrosso says, "We won't let it stop us from being the Christmas City."
She says some events may have looked a little different but there still has been plenty of festivities going on.
"Having a bad Christmas is not an option," says DelGrosso.
Some things, including the Central Moravian Church annual holiday putz have gone virtual. Christkindlmarkt was reconfigured to be more socially distant. Downtown Bethlehem's Live Advent calendar continued as in previous years.
"You can't beat the Christmas feeling in downtown Bethlehem," DelGrosso says. "There are so many small businesses that rely on the holiday."
The holiday season kicked off in November with a virtual tree lighting on Black Friday.
German-style Christmas huts in downtown Bethlehem were expanded to the Industrial Area of the city's historic district.
The city bought heaters to encourage outdoor dining. The Downtown Bethlehem Association sponsored holiday cocktail trails throughout the holidays.
The stores decorated their windows. Hotel Bethlehem had more than 35,000 Christmas lights on dozens of trees, 36 wreaths, two life-size nutcrackers, and a gingerbread house in the style of the hotel.
One of the Main Street storefronts had Santa Claus, so that children could see him but still be socially distanced.
St. Nicholas was available for story times and socially distanced photos and virtual "Cooking with St. Nicholas" via Zoom.
The live Advent calendar, at which a surprise guest appears and gives out treats in front of the Goundie House, 501 Main St., returned at 5:30 p.m. daily Dec. 1 - 23.
Central Moravian Church which has created an in-person putz, a miniature nativity scene, for the public since 1937, instead offered a virtual putz on the church's YouTube channel starting the first Sunday of Advent.
Christkindlmarkt had holiday-themed gifts and seasonal treats from nearly 80 artisans through Nov. 29 in an all-outdoor format.
Gone were the four large tents on SteelStacks' PNC Plaza and in their place was a new layout with artists' huts spread across the SteelStacks campus.
DelGrosso is thrilled to have the city once again included on The Oprah Magazine lists.
"It's amazing to be recognized nationally," DelGrosso says. "There is so much work that goes on behind the scenes and this is validation for all our efforts."