Curtain Rises: DeSales Theatre Act 1 encore performances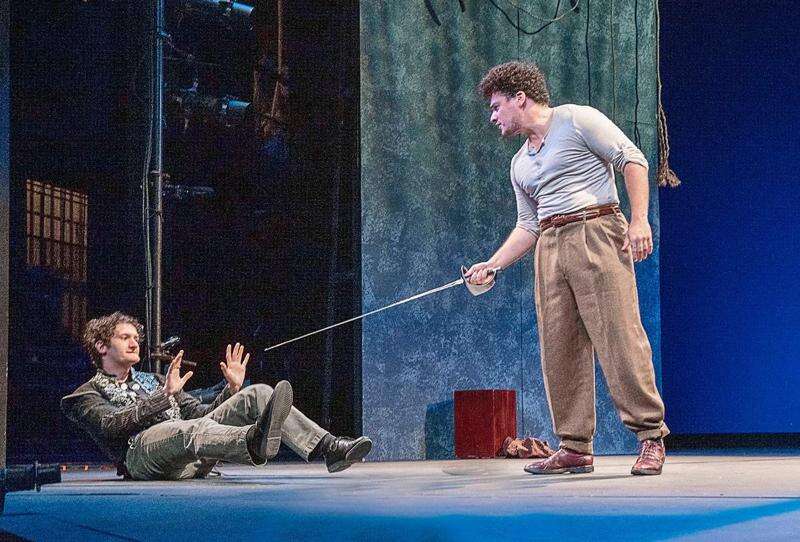 Published November 20. 2020 02:23PM
DeSales University's Act 1 launched its first-ever virtual season this fall, and has had such a strong response that the Center Valley school is encoring three of its fall productions.
"Chainz/Broken," "As You Like It" and "Emerging Choreographers Concert" will be available online Nov. 20 - 22.
All three productions, which creatively adhered to social distancing in production, were recorded live and will be available via Vimeo links.
"Chainz/Broken" is two one-acts plays by Paris Crayton III, which are directed by Kalif Troy. "Chainz/Broken" were recorded via Zoom.
In the storyline, four black men have been arrested during a protest about the shooting of a young teen and are in a holding cell at a police station. Despite the static confines of Zoom, the actors convey a broad range of sadness, anger, joy and tears as they learn about each other and themselves.
"Broken" painfully presents five women who have experienced the unthinkable loss of a child, mostly to gun violence.
"Chainz/Broken" is recommended for age 14 and up.
William Shakespeare's "As You Like It," directed by Matt Pfeiffer, was filmed live in Schubert Theatre, Labuda Center for the Performing Arts at DeSales.
The production of one of Shakespeare's funniest comedies follows social distancing with students fighting, falling in love and even wrestling through creative choreography that keeps them at a distance from each other. The production has original music by Alex Bechtel performed on stage.
"Emerging Choreographers Concert," with artistic direction by Angela Sigley Grossman, also was filmed in Schubert Theatre with safety protocols in place. The concert celebrates the beauty of human movement with new works by student choreographers.
To see the performances, choose a day, order tickets, and receive a link and a password, which will be active for 24 hours.
Tickets: www.tickets.desales.edu/; 610-282-3192.
Civic Theatre "Thankful" virtual concert
Civic Theatre of Allentown will present its third virtual concert of the season, "Thankful," 7:30 p.m. Nov. 19.
Area performers will sing. The emphasis is on "music that reflects on the good in our lives."
According to Diane Donaher, Civic Theatre administrative director, the concert is "about gratitude and the individual meaning of that for each performer.
"2020 has been a challenging year for all," she says. "'Thankful' is a way to stop reflecting on what we have lost and to start recognizing what we still have."
Once tickets are purchased, the concert is viewable for 48 hours. The filmed concert will be available until Dec. 10.
Tickets:
www.civictheatre.secure.force.com/ticket#/instances/a0F1Y00001GIHX6UAP
New children's musical live-stream
"Poppy & The Magic Tutu," an original children's musical by Kirsten Almeida, will live-stream, 7 p.m. Nov. 21.
Almeida, director of Star of the Day Productions, also will star in the show about Poppy, the dancing hippo.
The musical, filled with songs, choreography and jokes, is intended to teach children life lessons about friendship and working together.
The storyline in the 45-minute show is about finding Poppy's magic tutu and saving the circus. Characters include a joke-telling bear, a tap-dancing lion, a singing monkey, the ring leader and Poppy's best friend.
The cast include Almeida, Jay Fuentes, Gabe Kutz, Jillian Petrie and Julisa Trinidad.
The link to the performance is:
http://www.staroftheday.org/