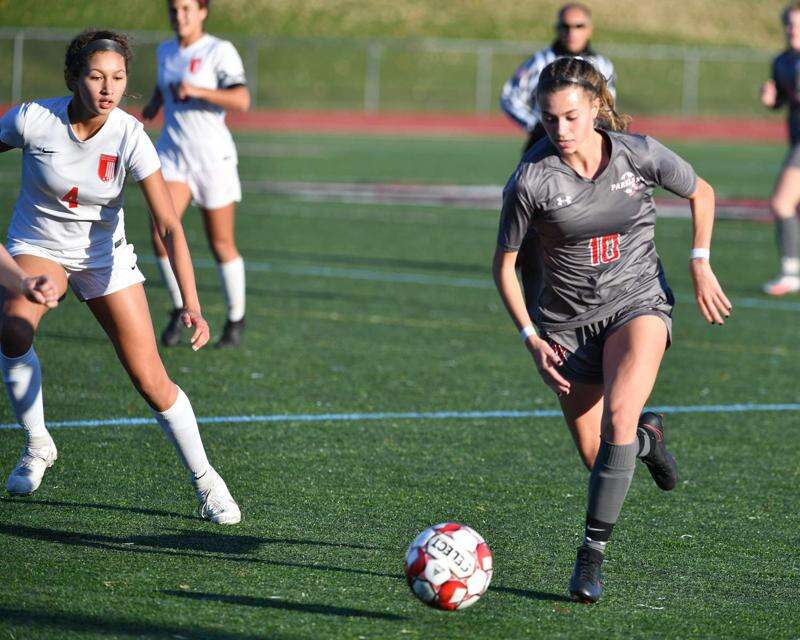 Published November 19. 2020 10:29AM
Parkland nearly played a perfect game, but Pennridge played an even better one.
The Trojans had a valiant effort in a hard-fought and intense battle with District One champ and host Pennridge Tuesday night in a Class 4A state semifinal, but they came up short in a 4-3 overtime defeat.
It was a mesmerizing battle that either team could have won and ended Parkland's season with an overall 14-1 record. Parkland made its first semifinal appearance since 2004.
Pennridge's Liv Grenda's second goal of the night proved to be the difference maker when she beat Parkland goal keeper Teresa Gonzalez high to the far side with 8:31 left in the extra session.
Parkland was coming off a 3-0 shutout over Williamsport in the state quarterfinals and had allowed just three goals all season.
"I told them that one of the greatest things that I saw tonight was the fact that they played so well that it forced Pennridge to play their absolute most perfect game to beat us," Parkland coach Al Haddad said. "The game went back and forth."
Senior Alex Marstellar, who had 10 goals leading into the contest, had a pair on the evening, the latter gave the Trojans a 3-2 with 12:20 left in the game.
She gave her team a 1-0 lead on a penalty kick after she was tripped up. Demi Olatilo later gave the Trojans their first lead at 2-1 when she converted in front of the net with 25:53 left in the second half.
"Alex just wanted to put the team on her back and do everything she could to get the job done," added Haddad. "She's had a wonderful, wonderful career at Parkland. She's one of our best midfielders ever, and I can't speak enough of our defense. It has been unbelievable all year
"We gave up three goals all year and then we gave up four in one game. But, you know, when you get to this level, that's what's going to happen."
Haddad was touched by the constant support of his seniors after a bout with COVID-19 that sideline him for four games.
"The seniors told me 'we got you coach'" he said. "We're going to take you to the state playoffs and let's go. They are just a remarkable group of young women, and I couldn't be prouder."