Emmaus girls harriers take fifth at state meet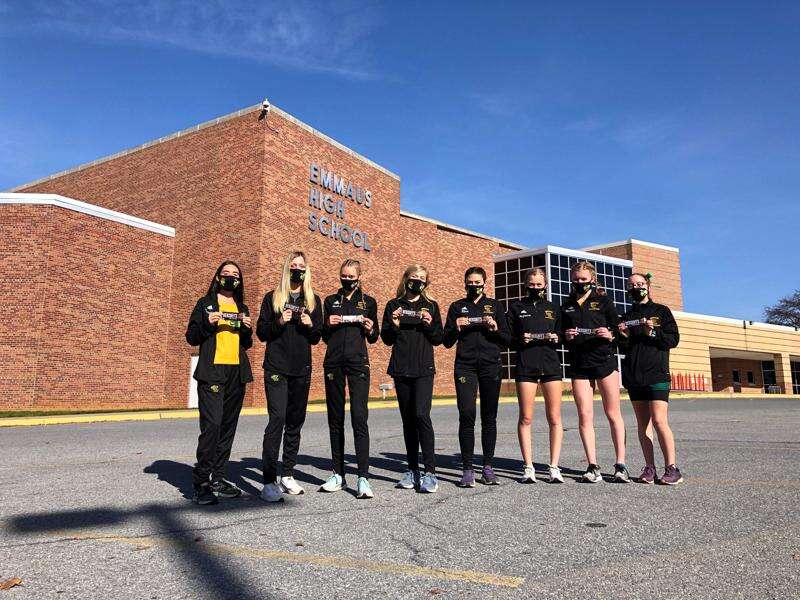 Published November 13. 2020 12:43PM
The Emmaus girls cross country team, which was perfect during the regular season and claimed District 11 gold, ended its 2020 season in bright sunlight beaming down from above on Hershey.
The Green Hornet girls team combined for a fifth-place finish with 82 points in the 2020 PIAA Class 3A cross country championships last Saturday. The finish continues a trend of improvement over the last three years. In 2018, Emmaus finished 16th and last year the Hornets claimed a 12th-place finish. North Alleghany won this year's team title with 59 points.
"This year the girls race was very competitive and the final results came down to just a few points between the top five teams," said Emmaus head coach Kelly Bracetty. "We were only nine points away from second place."
Ashleigh McNellis (31st overall, 20:23) led the way for the Hornets, with Hailey Reinhard (47th, 21:03) finishing second on the team. Keerstin Augustin (53rd, 21:13) was next, with Isabela Lees (54th, 21:18) and Clara Kennedy (58th, 21:25) rounding out the Emmaus's top five. Olympia Curley-Katishan (59th, 21:27) and Kera Reinhard (73rd, 21:59) were also part of the Hornets' state team.
"They ran their hearts out on a very challenging course with very hot, unseasonable temps and I could not have asked for more from them," said Brecetty. "Our girls packed it up and challenged the top North Allegheny team right from the start. They were fearless and will always do anything they can to help each other - that's the kind of family mindset that makes them unstoppable."
Simply making it to the Hershey for the race was an accomplishment in any year, but especially this year.
"Making it to states has meant navigating through a season full of changes with day-to-day uncertainty," said Bracetty. "But each time obstacles would arise we changed our direction to get there. We didn't change our decision to get there."
Growth has marked the Hornets' trajectory since 2018.
"Watching the team transform over the last three years into not only really good athletes, but more importantly really good people, has been more fulfilling to me as a coach than anything else," Bracetty said.
In the immediate aftermath of the race, reflection for the athletes on what a trip to states means is often impossible. Perhaps years will go by before their accomplishment is placed in context.
"I hope our athletes will reflect on their journey rather than any outcome and remember that they don't have to chase extraordinary moments to find happiness," said Bracetty. "It's always right in front of them if they're paying attention and practicing gratitude."