Senior AACHS athletes honored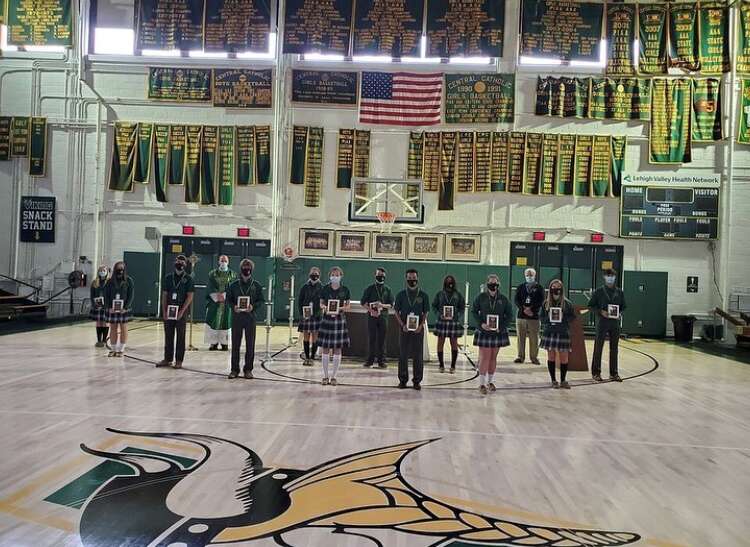 Published October 16. 2020 12:05PM
Congratulations to our Allentown Central Catholic High School Class of 2021 volleyball players who were honored on senior night Oct. 6. Congratulations to Julia Vargo, Monica Vargo and Madison Seyle. Senior Viking Golf Team members, Nolan Russo and AJ Woytek were recognized for their great season. Seniors George Psarros and Luke Sedlack were honored on senior night Oct. 2. Great job to all of the seniors.
Our ACCHS cross- country team competed against Emmaus at Lower Macungie Middle School Sept. 29. The Vikings and Vikettes improved their times with great runs.
ACCHS Masses honored the Bishop Scholarship Award students Sept. 24 and 25. A total of 24 freshmen were awarded with this scholarship. Congratulations to our Class of 2024.
Central's Campus Ministry Fall Retreats have been planned. The freshmen class retreat will be held Oct. 20 and 21. The sophomore class retreat will be held Oct. 27 and 28. In addition, the All Souls Retreat is scheduled Nov. 2. We look forward to all of these upcoming events.
Our Central City Project Food Pantry opened for the first time this school year, serving over 50 families with a large bag of groceries for each and some fresh vegetables from our urban garden.
Key Club has returned; meetings were held Oct. 7 and 8. Interested students should contact Gwen Minogue or adviser Mr. Motley.