Trojans finally get to play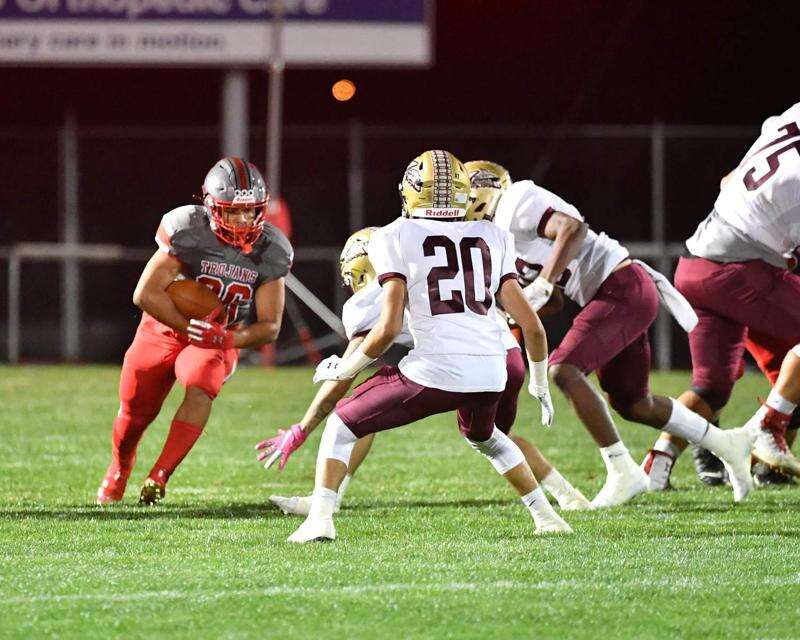 Published October 15. 2020 01:55PM
It felt like a long time in the making, but the 2020 edition of the Parkland High School football team took the field for the first time last Friday night, the last team in the Eastern Pennsylvania Conference and District 11 to do so.
The wait was worth it as the Trojans (1-0 overall) left the field victorious, taking down rival Whitehall 41-24 at Parkland School District Stadium.
Senior running back Isiah Rico picked up where he left off last season. He rushed for 152 yards on 17 carries and scored three touchdowns in leading the Parkland offense, which jumped out early and often against the Zephyrs (1-2), scoring 34 straight points in the first half to take firm control of the game, leading 34-3 at halftime.
"It was really nice coming out after such a long wait and proving to everybody what Parkland is all about and what we can do and showing there's no fall off from last year," Rico said. "The first half was great."
The Trojans were coming off an overtime defeat in the District 11 Class 6A championship game last season.
Rico tallied touchdowns of 11, 17 and 10 yards in the first, second and fourth quarters, respectively. He ran behind a brand-new offensive line, a unit that head coach Tim Moncman knew would be inexperienced and did not know what to expect. Marko Galetovic, Brock Boyer, Garrett Fitzgerald, Jakob Koren and Lucas Feher helped pave the way for 430 yards of total offense, including 302 yards on the ground.
"I thought they did a heck of a job, first half especially," Moncman said. "We fell off a little in the second half. I thought we lost our intensity. But the first half, you're talking five new guys up there."
Junior quarterback Ty Tremba, in his second year behind center, threw for 128 yards and ran for another 48, including a 35-yard touchdown dash. Senior JT Siggins was Tremba's favorite target, finishing with five catches for 71 yards and one touchdown. Dahlir Adams totaled seven carries for 80 yards and a score.
Whitehall scored the game's first points on a Connor Fenstermaker 22-yard field goal.
The Whitehall offense had just 79 yards in the first half after the opening drive, but picked up momentum late, closing the scoring with two touchdowns over the game's last 6:35.
Rico, who also plays on the defensive side of the ball, took home the Joe Gerencser MVP award given annually to the top player in the rivalry game, as voted on by members of the media attending the game. Gerencser was a legendary coach who won titles at both Whitehall and Parkland.
"It was really important to play, not just for college, but it's my senior year, and being able to play for the Parkland colors, even if it is a shortened season, just feels amazing," said Rico. "I'm happy we were able to have some fans out here, so it feels a little normal. With the band out too, it was really nice."