NW falls to Lehighton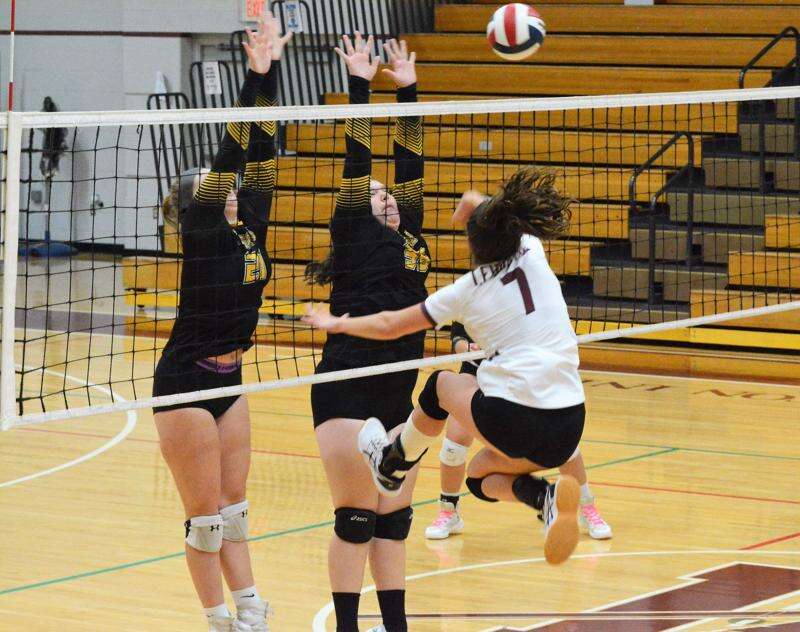 Published October 15. 2020 01:57PM
The Northwestern Lehigh girls volleyball team already sealed it's District 11 playoff berth.
Monday night the Tigers took the court against another team looking to get into the postseason when they visited Lehighton Monday night for a nonleague game. The Indians needed one win to reach districts and played like a team with a sense of urgency, narrowly beating Northwestern in a five-set match 25-16, 20-25, 22-25,25-14, 15-12.
Northwestern took a 2-1 lead after three games before the Indians came storming back, winning game four by 11 points. Lehighton led throughout most of the fifth game, but still had to fight hard to escape with a three-point victory.
Lehighton had 11 aces, five of them by sophomore Mia Snyder; 18 kills, eight of them by senior Sophia Salerno, and 12 blocks, seven by Solomon.
Northwestern had eight aces, 22 kills and seven blocks. Eight of the kills were by junior Olivia Silfies. Senior Ella Carson had 20 digs, three aces, two kills and one assist. Junior Sam Moss had 14 digs.
Northwestern head coach Alexandra Ashburne was pleased with the showing her team made.
"We've been playing better and honestly I think it's confidence," she said. "We haven't always been a team that can beat Lehighton and we haven't been a team that can perform in districts, but this year we can. The girls are believing in themselves."
She said a "drop in morale and frustration at letting the other team get on a roll" contributed to the Lehighton loss.
In the first game, the two teams battled to a 9-9 tie before the Indians went on a seven point scoring spree behind the serving of Snyder.
Hailey Miller contributed five digs for the Indians in the first game, three of them late in the segment.
Game two saw the teams tied at 20-each, with the Tigers rolling off nine points behind the serving of sophomore Mia Ritter.
Northwestern held the lead for almost all of the third game, with Lehighton eventually tying it a 15, then again at 21. A net error, an ace by Ella Carson and a block by Olivia Silfies that turned into a point were key in winning that game.
Game four saw the Indians go on the warpath, leading at one point 24-10. Northwestern scored four consecutive points before Lehighton put the game away.
The fifth game stayed very tight with Lehighton holding a three-point lead several times and Northwestern tying it on three occasions.
Northwestern, which qualified for districts based on securing a .500 or better Colonial League record, fell to 8-8 with Monday's loss.