Morales nets hat trick in win over Dieruff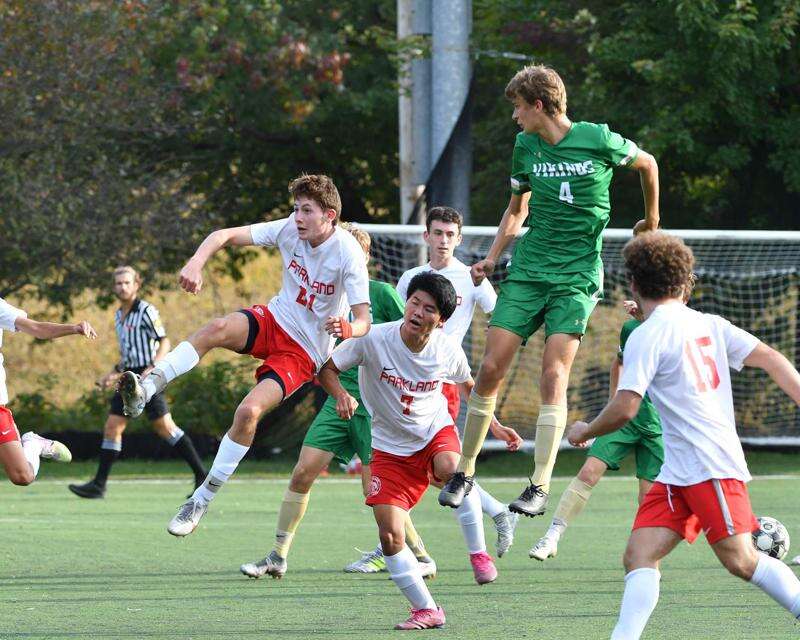 Published October 15. 2020 01:55PM
It isn't often that junior Zach Morales gets to celebrate scoring a goal. As a midfielder, he is primarily focused on finding the next pass and setting up teammates for open shots on goal. But his time came last Tuesday evening as he found the back of the net three times for his first career hat trick in an 8-0 victory over Dieruff in an Eastern Pennsylvania Conference match at Parkland High School.
"It only took me, what, three years to finally start getting the goals," Morales said. "I'm happy to be able to score, but happier to be able to help the team get a victory. These are the results we want and I just keep working hard every day to help us get these types of results."
Morales wasn't the only one getting in on the fun, however. Four other Trojans tallied goals, including two from Joel Santiago and one each from Mustapha Salau, Max Coleman and Rocco Birns to lead Parkland to its sixth straight win after dropping the opener 1-0 to Central Catholic on September 25. The Trojans are 6-1 overall.
"We all played really well tonight," said Morales. "We moved the ball around the field to create good chances on net. We started fast, which you always want to do. We scored I think two goals within the first 10 minutes there, and when you can put a team down like that early, it helps with your confidence level. We love playing quick, and we kept it going here tonight."
Parkland divided the scoring evenly throughout the two halves, tallying four goals in both the first and second halves. After staking to a 4-0 lead at halftime, the Trojans kept pushing forward and moved the ball around the field. They didn't want to ease up with undefeated Emmaus on the schedule twice next week before the regular season ends.
"We use games like these to work on our craft," Morales said. "We start practicing some things that we want to perfect. Going into Emmaus next week, those games will be challenges for us. We have to continue to do the things we did tonight. We are going to play like it's our World Cup."
Sophomore goalie Matt Link did not have to make a save as Parkland outshot Dieruff 16-0.