Borough waste dumping contract awarded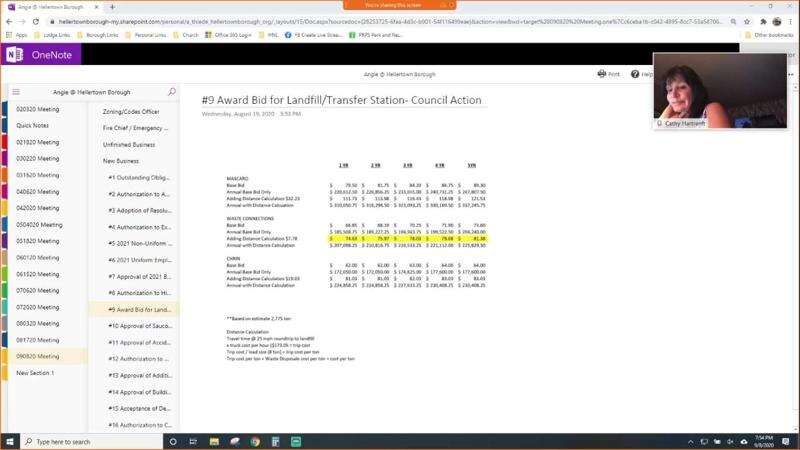 Published September 15. 2020 12:23PM
The Sept. 8 Hellertown Borough Council virtual meeting saw a number of items addressed, with perhaps the most notable being the awarding of a new waste dumping contract to Waste Connections of Bethlehem.
The contract, which is slated to begin in 2021, attracted three bidders - Waste Connections, Chrin Hauling of Easton and J.P. Mascaro and Sons, whose closest location is in Souderton. Borough Manager Cathy Hartranft explained that with the Waste Connections agreement, Hellertown will save money in years one and two of the contract, as the bid is lower than what they currently pay.
The other dominant item of discussion was Mayor David Heintzelman's concern over Rail Trail safety, particularly at busy street crossings such as the one at Water Street. "Nobody is dismounting, somebody is going to get hurt" he said regarding cyclists and those riding other pedal-assisted vehicles.
To addresses the situation, Heintzelman suggested possibly passing out cards with reminders on trail rules to patrons, as well as increased borough police presence and enforcement of safety rules. Borough Police Chief Robert Shupp agreed to develop a plan to present at the next meeting, and ultimately council moved to officially support the HPD's increased presence at trail crossings.
In other news, Public Works Director Barry Yonney expressed his displeasure with the number of disposable masks being left on the ground in borough parks. In April and May, discarded gloves were more of an issue, but now masks are being found "everywhere," he said. Council President Thomas Rieger expressed his appreciation for the work done by Yonney and his department to keep public spaces clean throughout the spring and summer months.
Governor Tom Wolf's continued loosening of COVID-19 restrictions was also a topic, as it was announced earlier in the day that beginning on Sept. 21, restaurants will be able to open indoor dining to 50 percent capacity, an increase from the 25 percent currently allowed. Chief Shupp explained that the process will involve the submitting of additional paperwork for restaurants, as they will receive a letter of authorization that must be posted in the front window of their respective establishments. There will be Pa. State Police and Liquor Control Board enforcement, he said. Reiger added that alcohol sales will also now be prohibited after 10 p.m. in restaurants which close later.
Lastly, Rieger addressed what he called 'rumors' and again asserted that Trick-or-Treat will proceed as scheduled on Halloween evening from 6-8 p.m., as the council decided at the previous meeting. The council received some backlash in 2018 when it held the annual event on a Sunday from 3-5 p.m. instead of Halloween evening itself, as was preferred by nearly three-quarters of respondents in a 2019 poll conducted by the borough. "It was decided last year that we'll never touch [Trick-or-Treat] again," he assured the community.