Bethlehem, Slate Belt firefighters featured on 'History Happy Hour'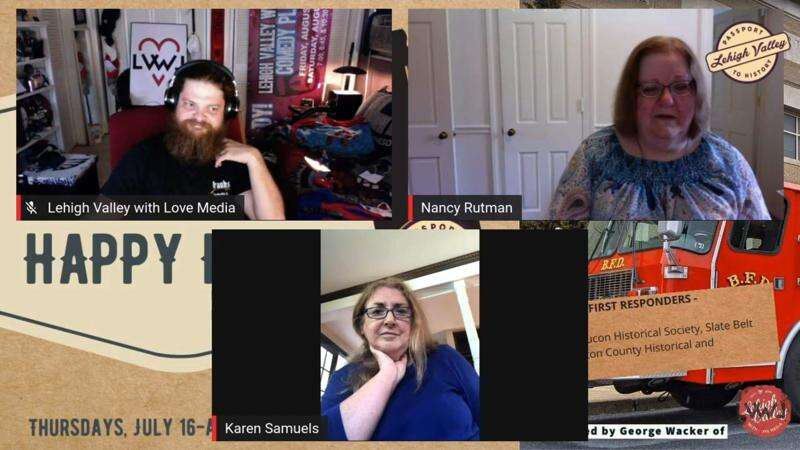 Published September 11. 2020 01:13PM
By Sarit laschinsky
Special to The Press
Lehigh Valley firefighters from Bethlehem and the Slate Belt were front and center during the Aug. 13 episode of Lehigh Valley Passport to History's "History Happy Hour" series.
To open the program, host George Wacker, of Lehigh Valley with Love Media, introduced the evening's drink sponsor, the family-owned-and-operated Bangor Trust Brewing.
Wacker then welcomed the first guests, Nancy Rutman of the Emmaus Historical Society, Lehigh County Historical Society and a collector of historical photos and memorabilia, and Karen Samuels, local historian and past president of the Lower Saucon Historical Society, who spoke about the Bethlehem Fire Department.
Rutman and Samuels worked together on a book, "Firefighting in Bethlehem, Pennsylvania, 1742-1917" with retired Bethlehem firefighter Chris Eline.
"Chris came to us with a project he wanted to do, the history of the Bethlehem Fire Department," Rutman said, adding Eline had connected with her and Samuels on social media. "So he knew we were involved in history."
The three pooled their knowledge and combined artifacts Eline collected from the fire department, historic photos and original research to create a history of the department's first 250 years.
Rutman said it was important to compile and remember one's history.
"The fire department would make the same mistakes over and over, because they hadn't been remembering their history and why it failed the first time they tried it, so they would try again and it would fail again," Rutman said.
Wacker then played "Bethlehem Fire Department: A Brief History," a video produced by Eline, which covered the history of the department from the city's founding in the 1700s until present day and included a variety of historic photographs.
Bethlehem was settled in 1741 by Moravian Church missionaries from Central Europe along the Monacacy Creek.
In the 1760s, the Moravians saw the need for a fire department after a fire destroyed their hay harvest.
A representative then purchased a 65-year-old hand pumper in London, one of the oldest firefighting apparatus in the country which was welcomed in Bethlehem by a public display of throwing water over the roof of a local building.
According to the video, Bethlehem's first two fire engines were named Perseverance and Diligence. They are still on display at the Moravian Museum.
In the 1800s, Bethlehem's departments continued to grow until nearly every neighborhood had its own company and horses to draw steam engines.
Some of these companies included Lehigh Hook and Ladder No. 1, Liberty Fire Company No. 2, Protection Fire Company No. 1, McIlvain Fire Company No. 1 and Monocacy Fire Company No. 1.
Around 1910, the city's fire departments began switching from horse-drawn to mechanized equipment and new stations were constructed throughout the 20th century.
By the 1950s, the departments stood 84 men strong.
Bethlehem Fire Department became affiliated with the International Association of Firefighters in 1943 and were unionized into Local 735.
Furthermore, the video noted that three Bethlehem firefighters, Franklin Lazarus in 1922, Jacob Greenfield in 1939, and George Stein in 1960, lost their lives in the line of duty.
The video included messages of honor to their ultimate sacrifices.
There was also photos of 11 memorable fires which occurred throughout Bethlehem's history at locations from Moravian College's Comenius Hall, to the Pennsylvania Playhouse and Westgate Mall.
In closing, the video notes that today, Bethlehem Fire Department protects the city's population of 74,982 over a coverage area that is 19.4 square miles.
The department has 113 firefighters in the Schweder, Lincoln, Memorial and Northwest fire stations.
There is also a Hazardous Devices Unit, Water Rescue Team, Honor Guard and HazMat Team.
Additionally, Wacker spoke with Melissa Hough of the Slate Belt Heritage Center, Bangor, and showed a video covering the history of the Slate Belt's fire companies.
Hough said the heritage center occupies Bangor's old town hall, which used to house the city's fire department.
"The video looked at the history of the Bangor Fire Department and the apparatus that they have," she said adding, the center has one of the department's oldest pieces of equipment on display.
She also spoke about the interconnectedness and importance of remembering history, noting the event's drink sponsor - Bangor Trust Brewing - operates in the same building which housed Hough's family's furniture store for three generations.
"In 1943 a disastrous fire started in the back of the building, and had it not been for the heroics of the Bangor Fire Department which doused the fire, neither of those two businesses would have existed. We're just so interconnected," she said.
According to the video, the first Bangor fire company, Rescue Fire Company No. 1, was organized in 1886 with one hand-drawn hose cart and ladder wagon and is considered the oldest active volunteer company in the slate regions of Northampton County.
The company moved into a larger apparatus room in the old town hall in 1907.
At the start, Bangor had no central alarm system so steam whistles from locomotives and the local steam heat plant blew to sound alarms.
After several fires, the borough installed a telegraph alarm system in 1907 and a siren on the clock tower which still sounds today.
In 1914, Bangor received its first mechanical fire equipment, an American LaFrance built on a Ford Model T chassis, which was known as an "unlucky piece," as at least one firefighter broke their arm while hand-cranking the engine.
Another broke his leg being run over by the truck leaving the station.
In 1922, Rescue Fire Company upgraded to include a Brockway/LaFrance chain-drive hook and ladder truck which carried five ladders, ceiling hooks, axes, extinguishes and a variety of other equipment, which stayed in service until 1954, when it was sold to another company.
The ladder truck resurfaced in 1999 when Linda Owens, wife of Fire Chief Bobby Owens located it in Coopersburg, where it had been restored to operating condition by vintage car collector Tom Troxell.
Linda Owens raised funding to bring the truck back to the borough and several former firefighters who served on the ladder truck helped drive it home to Bangor.
The video also covers some of the historic fires in Bangor, including a 1913 fire which destroyed the Flory milling and manufacturing companies, causing an estimated $750,000 in damage at the time, and a 1958 blaze which left Pen Argyl's old realty building and nearby structures in ruins, and was considered the worst fire in the town's 100-year history.
Fifty-one active and six retired members of Pen Argyl's Lookout Fire Company turned out to fight the realty building fire and were assisted by 14 other companies.
The second video concluded with a "Faces of our Heroes" segment showcasing historic and modern-day photos of the Slate Belt's firefighters on duty, performing rescues and serving in the community.
"History Happy Hour" is a virtual series highlighting different themes and discussion with regional museums, and featuring sponsored drinks from Lehigh Valley breweries, wineries or distilleries.
The series was created by Lehigh Valley Passport to History, a partnership of 28 historical sights and resources throughout Lehigh and Northampton counties, and episodes are available to view on the Lehigh Valley Passport to History Facebook account and YouTube page.