Kids use imagination at library event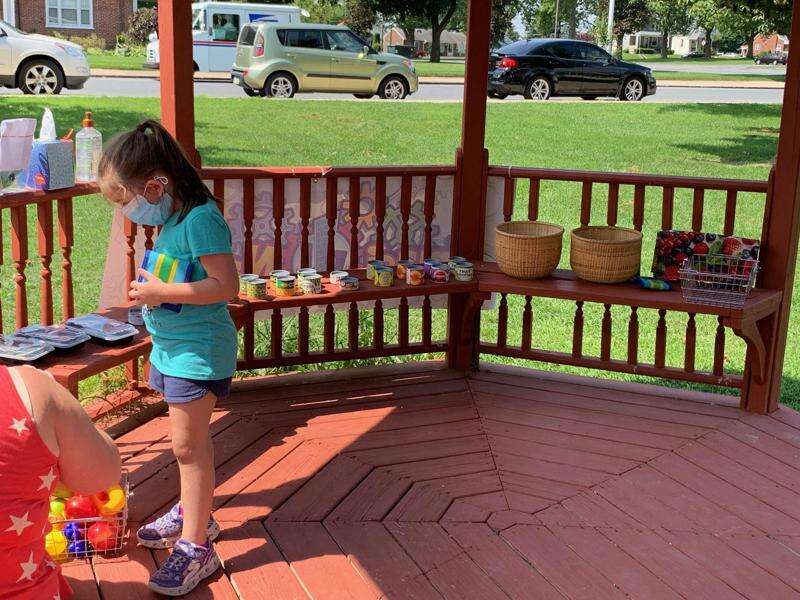 Published September 09. 2020 12:59PM
Coplay Public Library recently hosted a visit from Imagi Nation, a children's play place in Dorneyville that specializes in helping children imagine what they might like to be when they grow up.
The low-key event, which was open to only 25 parents and children as per Pennsylvania Gov. Tom Wolf's mandate, took place Aug. 15 in a green space next to the library, 49 S. Fifth St.
In a dual effort between the two entities, the library provided tables and a shade canopy while Imagi Nation provided costumes and the props needed to set up play imagination stations. Here, the children could choose which careers they might be interested in. For example, they could dress as firefighter and color their own hats, or they could go into manufacturing by building dune buggies and other things from Tinkertoys. Children could try out retail, dentistry, nutrition and postal work. There was a grocery area set up where they could shop or play checkout.
There were facilitators available if the kids needed guidance, and parents were encouraged to play along, too.
In addition, Imagi Nation co-owner Wendy Pitts captivated everyone's imagination with storytime in the gazebo.
The event was the brainchild of Janice Pitkin, retired postal worker and current librarian assistant in charge of storytime and children's programming at the library.
"I got the idea from taking my grandchild to Imagi Nation over in Dorneyville," she said.
Spending time with kids has made her familiar with what they are into, and she uses that knowledge, along with her many lifelong interests, to generate programming ideas and keep everyone interested.
The library hosts various events throughout the year. It also offers a unique book club and storytime, both in person and online. In addition, members can access online databases, check out their ancestry, take computer courses and much more, all free with a library card.
"The library is underutilized," Pitkin said.
She and library director Veronica Laroche encourage everyone to stop by and discover for themselves this little gem in the middle of Coplay. You don't need to live in Coplay to join.
Visit coplaypubliclibrary.org to see all the offerings.