Borough hires 2 police officers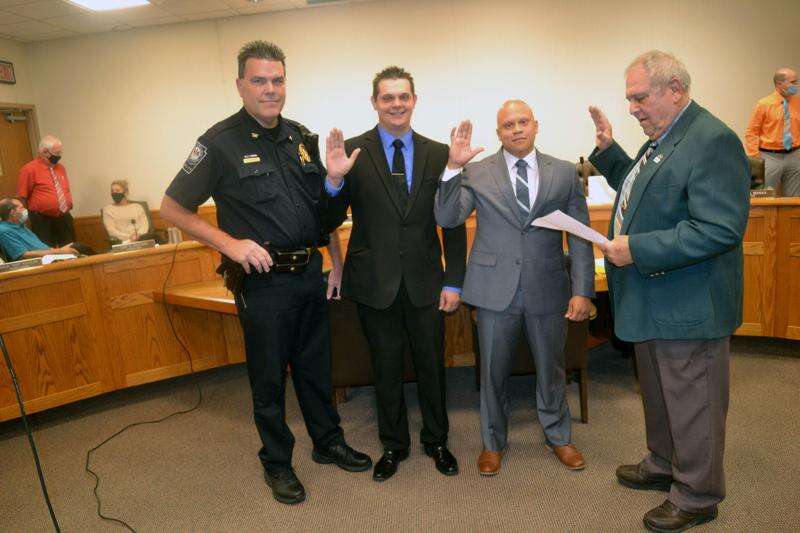 Published September 09. 2020 01:09PM
At its Sept. 3 meeting, Northampton Borough Council unanimously approved the hiring of two new additional full-time police officers, Brandon Reph and Emanuel Torres, both of Whitehall Township.
The new additions bring the department to 14 officers, the most the borough has ever had in its history.
Mayor Thomas Reenock administered the oath of office to the new police officers in a ceremony held in council chambers. Police Chief Bryan Kadingo said the new officers will begin their duties immediately.
Councilwoman Judy Kutzler supports the hiring of a 15th police officer in the department. There was no mention when another new officer proposal will come before council.
"We have their backs," Kutzler said in support of the borough's police officers.
In a reference to the request to defund police departments across the country, she said the council and the community fully support the police with funding, training and equipment. Kutzler further mentioned the borough's police officers perform their duties and look forward to returning home from their shifts safely.
Councilman Thomas Gehringer made a motion at the meeting to suspend telephone conferencing for its members. After a lengthy discussion, it was agreed to delay a vote on the issue until the Oct. 15 meeting, so members can review the proposed suspension of telephone conferencing. Councilman Robert McHale has utilized telephone conferencing for three recent meetings instead of physically attending in person.
The borough's new $1 million-plus Pierce aerial ladder firetruck may depart the Wisconsin-based manufacturer Sept. 25. It will, however, not be brought directly to the fire station, but rather to a business for lettering and other detailing.
There was no indication on whether the fire department will hold a small parade, as is usually the case when a new truck arrives at the station, along with the tradition of firefighters pushing the new firetruck into the station.
Councilman Anthony Lopsonzski Sr. recommended the borough have a second official Christmas tree. He said a decorated tree could be placed at Uptown Park for the holidays. The borough already has a large tree placed at the triangle at Main Street and Laubach Avenue for the Christmas holidays.