The Neffs National Bank opens Walnutport branch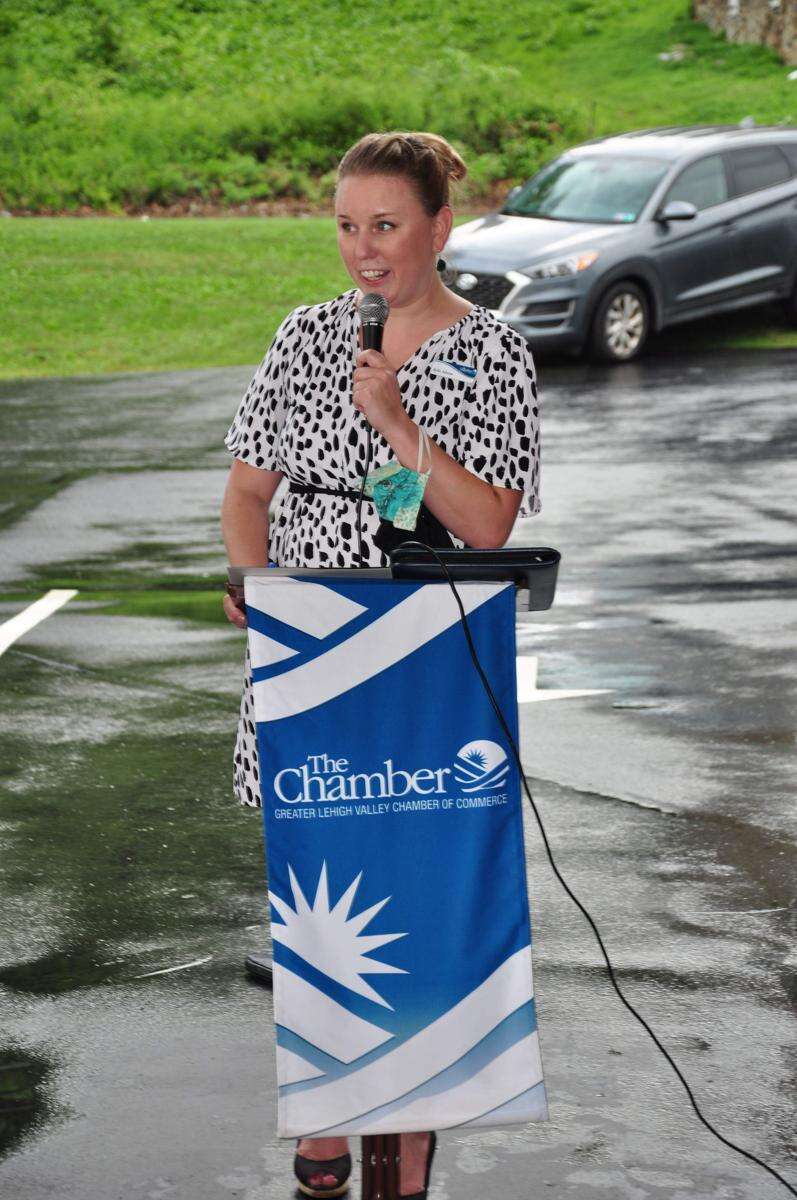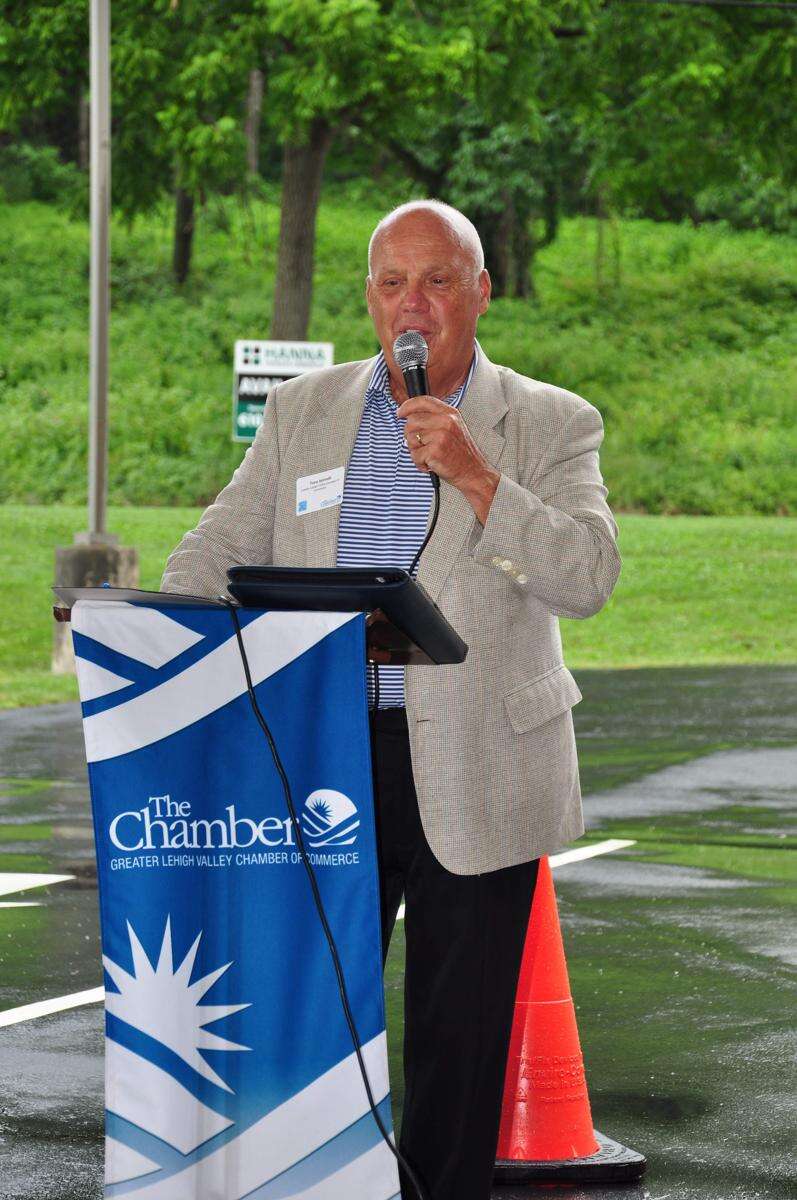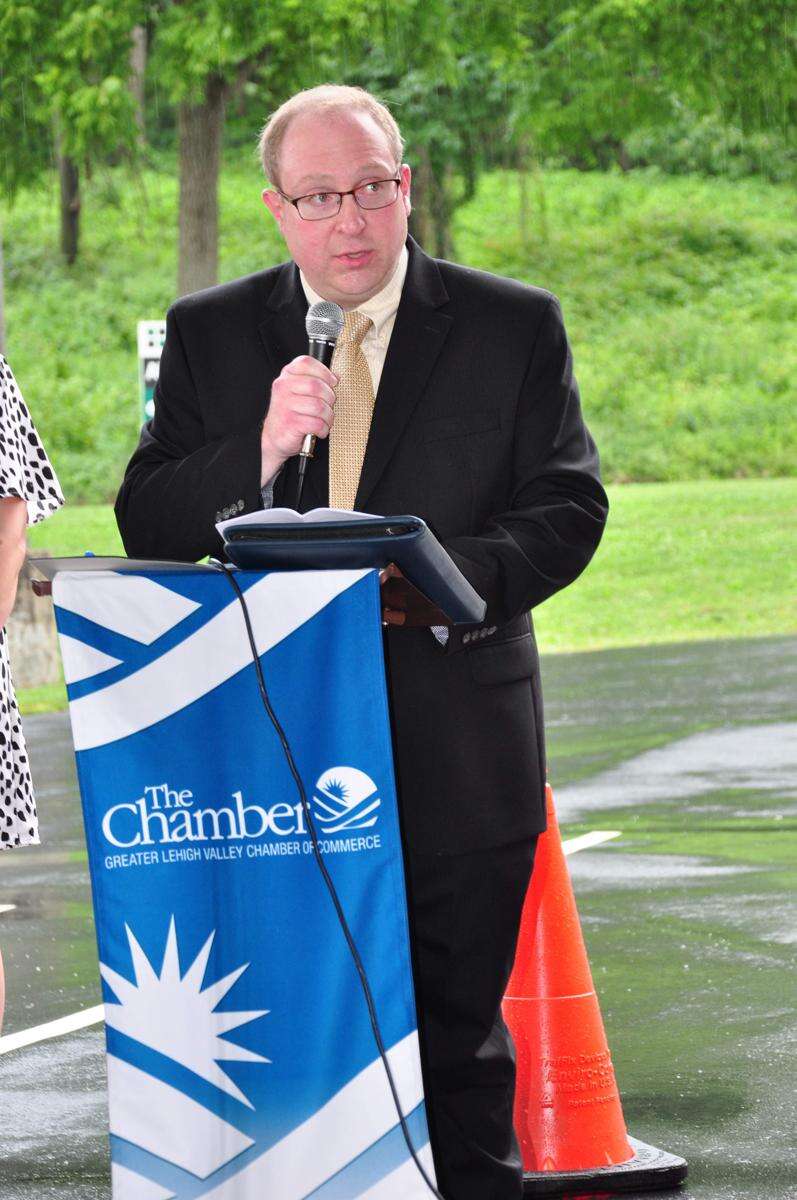 Published July 30. 2020 12:50PM
Even a humid summer afternoon and rain showers could not dampen the July 23 ribbon cutting for The Neffs National Bank's branch at 211 S. Best Ave., Walnutport.
More than three dozen VIPs including bank staff and directors, elected officials, members of Walnutport Borough Council, Greater Lehigh Valley Chamber of Commerce and Greater Northern Lehigh Chamber of Commerce gathered outside the bank to listen to a variety of speakers.
Kylie Adams, manager of Affiliated Chambers at the Lehigh Valley Chamber, opened the event by welcoming guests to the bank's second location in almost a century of business.
"It truly is a momentous occasion - for nearly a century Neffs has worked tirelessly to serve our community and has also been a wonderful Chamber partner as well," Adams said.
Tony Iannelli, CEO and president of the Greater Lehigh Valley Chamber of Commerce also offered words commending the work done by the bank as a local institution.
"First of all, I love our community banks, and really one of the most recent times where they shined was during the PPP [Paycheck Protection Program]," Iannelli said, adding he knew of many businesses that got "lost in the shuffle" at major banks.
"But, if they had their local bank, The Neffs National Bank, they knew they had a friend in a family, a friend in the business, and it worked out."
Iannelli also praised the local community as "absolutely amazing" and wished the bank employees and directors the best of luck with the expansion.
Andrew Gildner, board chair for the Greater Northern Lehigh Chamber, said the ribbon-cutting and grand opening were "97 years in the making," and what an honor it was to be part of this day."
He said while the Walnutport branch was the "first physical presence of The Neffs National Bank in this part of Greater Northern Lehigh," the bank is no stranger to the area, having been a local, independent, community resource for nearly a century.
"And, we thank them for that," Gildner said.
He also reflected on his personal connection to The Neffs National Bank, noting his father, Ronald, had worked for the bank for 45 years.
And, he said bank President and CEO Kevin Schmidt had gotten him involved in the Chamber.
"The bank is more than a financial institution to not only me, but our community as a whole," Gildner said, adding people choose to bank with The Neffs National Bank for numerous reasons.
But, one overarching reason is the relationship between employees and members of the community, he explained.
Several local officials and representatives were also in attendance to deliver certificates of commemoration and celebrate the opening.
State Sen. Mario Scavello, R-40th, told the audience he truly enjoys going to openings because he sees jobs.
"I normally say to people, 'Don't grow your business too quickly, take your time.' I think in your case I don't have to tell you that," Scavello told Schmidt before presenting him with a certificate from the commonwealth recognizing the Walnutport grand opening.
"I commend you for your investment in our community, and for strengthening our local economy.
"Your institution will provide a variety of financial services and products that will meet the needs of our area residents and businesses for many years to come."
Megan Beste, representative from the office of Congresswoman Susan Wild, D-7th, also presented Schmidt with a certificate on Wild's behalf.
"It does take a village to raise a child. It also takes a community to raise a bank, and it takes a bank like Neffs to raise a community," Beste said. "There is no substitute for a community bank, the congresswoman believes that …
"She counts on her community bank leadership to inform her work in Washington, and we just want to thank you for what you're doing for our community, it's outstanding."
In closing, Schmidt addressed the gathering.
"This is a very exciting and momentous time for us as we open our first branch," he said.
He then thanked the bank's municipal partners in Walnutport, the bank's board of directors "and all our other staff who have made this dream a reality."
Schmidt discussed words of advice given to him by former board Chairman and former Slatington School District Superintendent Herman Snyder.
"[Snyder] often said to us, 'Fellas, you got to remember the three publics. Whenever you make a decision you have to remember the three publics and the three publics are your employees, your shareholders and the community," Schmidt explained, adding The Neffs National Bank had a responsibility to support and benefit all three parties.
"I believe the actions we have taken definitely satisfy these concerns, and I think Herman and the rest of our past shareholders and directors would be proud of the decision that we've made today.
"When we planned this branch, we never thought we'd be doing it amid a pandemic, a troubling economic downturn and social unrest. But in our 97 years, the bank has faced many similar adverse situations … from the Great Depression to the Great Recession, from World War II to the Cold War and on.
"Yet throughout the period we have remained strong, a trusted partner and committed to our community, hence our commitment and our mantra 'strength, trust and community."
Following his speech and joined by the bank board of directors, employees and elected officials, Schmidt did the honors of cutting the ribbon and concluding the event.
Marketing and Public Relations Coordinator Amanda Clauser told The Press the Walnutport branch opened for business earlier in April but due to the ongoing COVID-19 pandemic, the grand opening ceremony was pushed until July.
"But we're so glad to do it now, and thankful to celebrate with everyone here," Clauser said.
"Walnutport's support for us here, and at the other branch, has been wonderful. We're glad to be open."
The Neffs National Bank's first branch at 5629 Route 873, Neffs, was originally founded in 1923.
Both branch lobbies are open to the public with COVID-19 safety protocols, including mask-wearing and social distancing.
The bank also offers online and app-based banking solutions, a 24-hour banking phone line and drive-through services.