Lightbridge Academy welcomes back students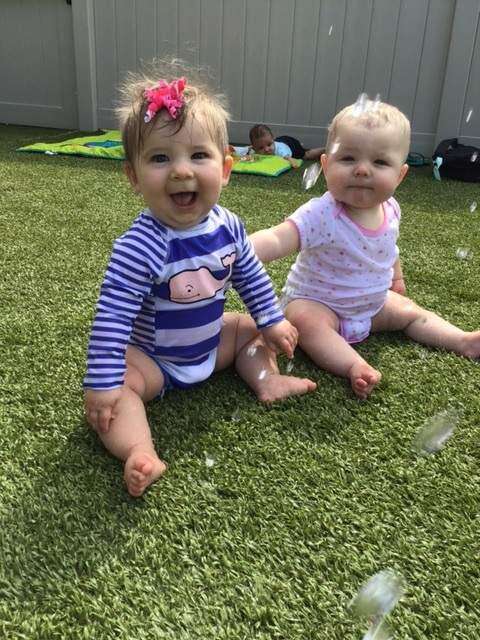 Published July 30. 2020 11:19AM
After temporarily closing for almost three months due to the coronavirus pandemic, Lightbridge Academy, 239 Cetronia Road, Upper Macungie, reopened its doors at the beginning of June to welcome back families and children.
Joanne Sofia, senior vice president of operations, and Heather Semple, center director at Lightbridge's Allentown location, spoke to The Press July 2.
They discussed the academy's reopening and the measures taken to ensure the health and safety of students, parents and staff.
Semple said the Allentown academy - which opened in 2019 - closed March 17 after Gov. Tom Wolf ordered child care centers statewide to shut down due to COVID-19.
"From a personal standpoint, I thought it was going to be very temporary," Semple said. "Based on the governor's speech on March 16, we weren't even sure he was going to require us to close, but certainly that was the case."
Sofia said Lightbridge worked during the closure on new protocols - using guidance from state and federal government agencies, as well as licensing organizations - to complement existing health and safety measures, obtained sufficient personal protective equipment and comprehensively trained staff for eventual reopening.
Semple said her facility reopened June 1 with a special waiver to care for children of first responders.
"There was a waiver given by the state for certain child care centers to open. It was based on the number of first responders and health care professionals you serve," she explained.
When the academy's health and safety procedures solidified and staff were confident in their plans, the center reopened.
Semple noted as restrictions lifted, the center officially reopened June 8 to all new and returning families.
"We can actually open enrollment to anyone at this point because the county's gone green," she said.
Semple said her location has placed social distancing markers on sidewalks, erected outdoor sanitation stations, and provided weekly waivers for families and visitors to complete, asking about any kind of exposure.
"We're doing temperature screenings of children and anyone in their families …"
"We're sanitizing in the vestibule, and then a staff member is escorting them to their individual classrooms where we are hand-washing upon arrival and certainly getting the kids settled," she said.
The academy has been limiting items brought from home to lessen cross-contamination, increasing sanitation protocols to clean any high-touch surface every half-hour, removing soft toys and sanitizing toys in every classroom, among other steps.
Semple said the school also has air filters for improved air quality and an air sanitation system is being installed during July to create a healthier environment.
All staff are wearing masks and socially distancing as much as possible, which she admitted can be difficult when caring for the social and emotional health of their students.
"Every child loves to play together and hug … We're doing the best we can and still trying to remain nurturing and living a normal life for these kids, trying to maintain some sense of normality."
Sofia said safety measures taken by Semple's school reflect Lightbridge's core values in leading the child care industry with the "Gold Standard for cleanliness, security, parents' peace of mind" - which covers cleaning, sanitizing, security, staff training and transparency.
Lightbridge parents also may view what is happening in the classroom through the ParentView Internet Monitoring System.
"Parents can log in at any time and see their child. That type of thing is just priceless at this critical time when everyone is kind of anxious," Sofia said.
Semple said during the closure, Lightbridge offered programs over Facebook Live for families to tune in three times daily.
"There was an early morning activity … a midday kind of yoga, relaxation, movement activity and then an end of the day activity as well," she said.
Now that the school is open again, students are spending more time outdoors, with every age group going outside twice a day.
"We are spending more time outside in the fresh air, in the sunshine," she said, adding the school has a playground - sanitized after every class - and a sprinkler system for children to enjoy
Over the summer, staff are working to create something special for the kids including special themes for each week, doughnut events, outside water days, shaved ice treats from Kona Ice, and a school-wide tie-dye day.
"Keep it fun and exciting and still feel like summer. We'd like to get a little more regular activity into our days just to make it seem a little more normal," Semple said. "They seem to be just really having a good time."
For the upcoming school year, Semple said the academic start date was moved up to mirror the Parkland School District, and school will start Aug. 31.
Teachers will focus on introducing new material in the fall, while over the summer, children will have review sessions to keep information fresh for the next school level.
Sofia said Lightbridge will continue keeping a close eye on government guidelines for the new school year.
"We've always been the solution for working parents, and I think our definition of 'working parent' is very different now," Sofia said. "We need to be there if parents are working in an office, or if they're working from home, or if they have a split schedule."
Semple said by August she anticipates seeing around 50 percent capacity as families become more comfortable.
"We're right at 40 this week, and next week we expect to be about 60 children, so we're growing," she said.
She added that despite initial concerns about drop-off procedures, there have been "very, very little, if any" protests from children.
"They're laughing … They're literally running to their teachers, which is such a very nice thing to see. I think they're happy to be here," she said.
"And, of course, the teachers are so happy to see them."
"It's nice to have activity back in the centers," Sofia said. "Just to hear kids laughing and having teachers laugh. It changes everyone's perspective, changes the entire environment."
Additional information is available at lightbridgeacademy.com.
Families can call the Allentown center at 610 395-3936.