'Rough Riders, through and through': Catasauqua High School Class of 2020 graduates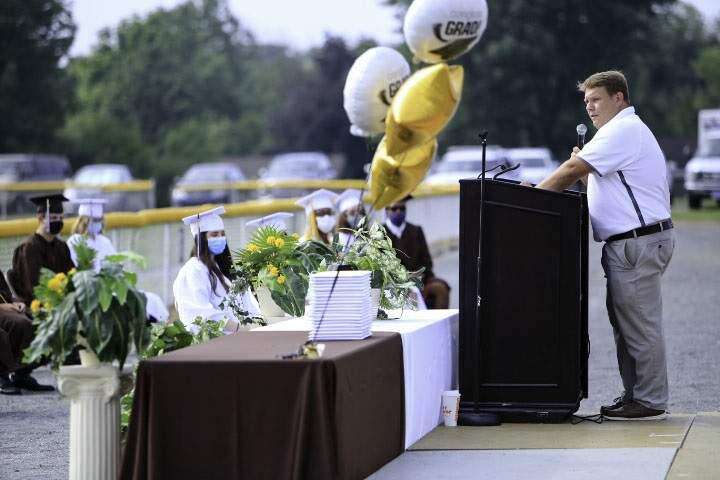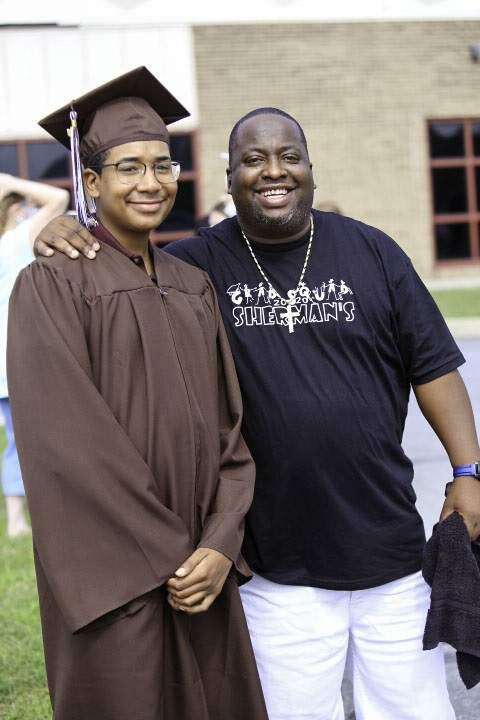 Published July 29. 2020 11:52AM
The Catasauqua High School Class of 2020 experienced a difficult, disappointing spring and early summer. But, in the spirit of their namesake, Rough Riders, they remained resolute and experienced a commencement that silhouetted as near a normal graduation as possible.
The ceremony was held July 25 at Alumni Field, where many past Catasauqua football heroes played - like Jonathan Linton, Chris Gerhard, Edward "Scrapper" Farrell, Mike Bundra and Mike Rieker, to name a few who played in the NFL.
It was that tough Rough Rider spirit that may have subconsciously guided the impulse to have a graduation ceremony that most resembled a typical commencement.
While other schools went virtual, held graduation at drive-in theaters, asked parents to hold their own ceremonies or simply delivered diplomas, Catasauqua Area School District hung tough - Rough Rider tough.
The graduating class was divided into four sections by time - 9:30 a.m., 10:30 a.m., 12:30 p.m. and 1:30 p.m. At each, 20 to 25 seniors met, socially distanced, on the track of Alumni Field.
There was also socially distanced seating to accommodate up to 250 attendees on the football field. Each student could have up to 10 guests present for the ceremony.
A stage, podium with a microphone, table for diplomas, flowers and balloons were set up like a common format for a commencement.
Catasauqua High School Principal Adam Schnug spoke first, expressing the gratitude he feels toward the students who were about to graduate. He thanked the families and others present who supported their loved one during difficult times.
Schnug then turned to Catasauqua Area School District Superintendent Robert Spengler and informed him the students had fulfilled all requirements to graduate.
Spengler told the students to always keep Catasauqua near to them.
"Stay connected to the Catty community and bring back to us your learnings and experiences to help us be an even better place," Spengler said.
Spengler told them they are "Rough Riders, through and through. You have demonstrated both tenacity and charity. I truly admire you. Without a doubt, the challenges and benefits of the spring 2020 will serve as an impact on your lives that will propel you to serve others and value the relationships cultivated over your life."
Twelve graduates received awards for being on the honor roll 16 times. That is being on the honor roll every report card for all four years.
The class valedictorian is Sarah Yandrasitz, and the class salutatorian is Katherine Verenna. A valedictorian is typically the student having the highest academic achievements of the class. A salutatorian is the student who ranks second in academic achievement in the class.
The senior class officers were Priscilla Schaller, president; Shaziya Roberts, vice president; Madison Hicks, secretary; Taylor Pattison, historian; and Mason Schlofer, treasurer.
New graduate Jeremiah Billie plans to work and is not sure which school will be next. His mother, Jennifer Billie, expressed gratitude to the school for holding the graduation.
"This was nice. It worked out very well," she said.
Jennifer Smith, mother of graduate Sophia Smith, who plans to attend Lehigh Carbon Community College to become an assistant physical therapist, commented on the graduation.
"Amazing," she said. "It gave the kids a chance to walk together, and the focus was on what the kids need."
Graduate Alyssa Cantrel will be attending Northampton Community College to become an ultrasound technician.
"This was much better than a virtual graduation," said Holly Cope, mother of Alyssa Cantrel.
The future looks bright for the Class of 2020, and the graduates have a variety of different plans for their next step. Some are moving directly into the workforce, while others look to join the military or expand their education through college or trade schools.