Baseball teams to play tournament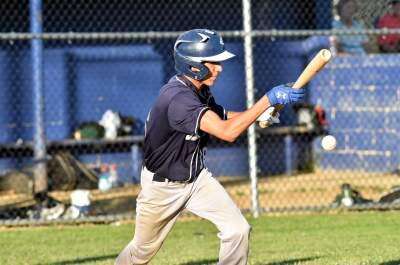 Published July 16. 2020 12:00AM
With just over two weeks until the start of a proposed baseball tournament featuring teams made up of high school varsity rosters, there are still some questions and concerns.
The hope is that the games, which are scheduled for August 3-9, will be able to be played without any issues related to the coronavirus. The tournament would give high school players who saw their season canceled the opportunity to play at least a few games with their teammates, which would be especially important for senior players, many of which will head off to college in just a few weeks.
Salisbury's first-year coach Justin Aungst will finally get a chance to coach at least three games after an abbreviated training period was shut down in March.
"I am confident the tournament will be able to be held as long as there isn't another spike in cases," said Aungst. "The only thing we can do is take it week by week, day by day and make the best decision that keeps everyone - especially the kids - safe."
The tournament was the brainchild of Dan Villanti, the assistant director of alumni relations at De Sales University, and will feature 32 teams.
The team rosters will be comprised of players from 32 area high schools, although the tournament is not sanctioned by any of the school districts, nor the PIAA. Because of that, players will wear specially made t-shirts rather than high school uniforms and Villani had to secure insurance to hold the tournament. The costs are being defrayed through contributions from sponsors. Teams are guaranteed at least three games against the other teams in their pool, with the top two teams in each pool moving into the playoff round.
The Falcons will be grouped with teams representing Northwestern Lehigh, Saucon Valley and Emmaus.
"The competition in our pool will be tough," noted Aungst. "From the Colonial League standpoint, Northwestern is extremely strong and our meeting with Saucon a year ago was very competitive. As far as Emmaus goes, I'm not too familiar with them but I'm sure they will be ready to play as well."
When the tournament was presented to the Salisbury players, it was well received. This year's Falcons team would have featured a number of senior players who missed not just their final season of high school baseball, but were also impacted by losing their prom and proper graduation ceremonies. The tournament salvages at least part of what the student-athletes lost.
"Obviously, all of the players were excited to hear about having the chance to hopefully compete one last time this summer," said Aungst. "With our team being a majority of seniors, this could be their last time playing competitive baseball so they are looking forward to it."
Aungst was also excited about the tournament, which gives him the opportunity to coach his players in a few games and to get a look at some of his younger players that will make up the bulk of the roster over the next couple of seasons.
"I was excited for the kids," Aungst said. "I know they worked hard during the offseason to get to where we were and to have everything abruptly end was unfortunate to say the least. Having a team led by almost all seniors, it's nice to see them get to play one more time together."
With both Lehigh and Northampton counties in the green phase of reopening, the way is clear, provided some safety measures are in place, for the tournament to take place. One of the issues will be deciding where the pool games will be played.
Semifinals and finals will be held at Coca-Cola Park. The two semifinal games are slated for Aug. 9 and the final will be televised by Service Electric Monday, Aug. 10.
There will also be a senior recognition ceremony held in between the two semifinal games.