Curtain Rises: Crowded Kitchen Players' 'Twelevness' audio recording sound move for theater troupe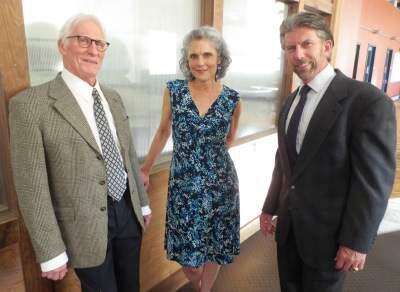 Published July 11. 2020 12:00AM
The Crowded Kitchen Players release of "Twelveness: A Play in Three Scenes" by Charlie Barnett as an audio file retains the dramatic impact of the original stage production.
Plus, it has the advantage of portability and convenience. You can listen to it wherever and whenever you want.
Ara Barlieb and Pamela Wallace, cofounders of Crowded Kitchen Players, co-directed the audio version, recorded at Westwires Recording USA, Allentown, a few days before the coronavirus (COVID-19) shutdown.
The recording creates a three-dimensional sound that takes advantage of stereo and speaker separation. In the play's opening scene, you can hear a tennis ball moving from channel to channel. The sound shifts as two tennis players talk to each other across the court.
Barnett recommends listening with headphones, preferably good ones, making sure you have the left and right channels set to the proper placement.
Barnett, an Easton native who lives in Washington, D.C., is better-known as a musician than a playwright. He has performed with his band, Chaise Lounge, at State Theatre Center for The Arts, Easton; Miller Symphony Hall, Allentown, and Musikfest and Godfrey Daniels, both Bethlehem.
Barnett has recorded numerous albums, including the recently-released "Charlie Barnett All By His Own Self." He has composed music for TV shows, including "Saturday Night Live," "Weeds," "Royal Pains" and "Archer."
Barnett collaborated on a recent play-in-progress, "19: The Musical," about suffragettes, and is working on a new play, "When We Get There," about a 1965 car trip from New Jersey to Alabama.
Barnett wrote "Twelveness" while on vacation at Lake Tahoe, Calif.
"I'm not a woodsy-type person anymore, so I got up early and wrote four hours a day," Barnett says of "Twelveness," adding, "It took about a week to write, but a year for rewriting."
Barnett is pleased with "Twelveness" in its audio format, which he says required hardly any rewriting from the original stage version. "There was a tremendous shared energy with the audio cast. I would like to know how they did it."
Since the original stage production was not elaborate, the transition to audio was not too difficult.
"Ara and I were very clear it was to use a minimalist set. The entire thing cost about thirty dollars. We even used fake tennis balls.
"A play is truly theater of the mind. The less the theater of the mind they are, the less successful they are."
Barnett became friends with Barlieb when the two were classmates at Easton Area High School, which they graduated from in 1969. They were seated close to each other alphabetically in homeroom.
"He was into theater more than I could possibly understand," recalls Barnett.
Barlieb directed Barnett's comedy, "Him & Jim," for Crowded Kitchen Players in 2018.
The Crowded Kitchen Players has been performing at the Charles A. Brown Ice House, Bethlehem, but its recent productions were postponed because of the coronavirus shutdown. "There is no indication when it will be back up," Barlieb says of the Ice House.
Barlieb is rehearsing the two plays that were postponed, "Book of Revelation: The Comedy" and "Dogcatcher," and plans to present each as 10-episode videotape versions on YouiTube and other social media platforms.
Barlieb is establishing a Crowded Kitchen Players' YouTube channel.
Says Barlieb, "You can add in whatever you see onstage with a voiceover.
"In my studio, I have a 16-foot-high green screen that I can use as a background to recreate the look of the Ice House digitally."
Advances in technology have made it easier to create professional productions.
"With multiple cameras, audio equipment and software, it is very doable," Barlieb says.
Crowded Kitchen Players: www.ckplayers.com
Charlie Barnett: charliebarnett.com
Chaise Lounge: chaiseloungenation.com
"Charlie Barnett All By His Own Self" album:
www.modernsongbookrecords.bandcamp.com/album/charlie-barnett-all-by-his-own-self