Photography exhibit for Bethlehem brewery preview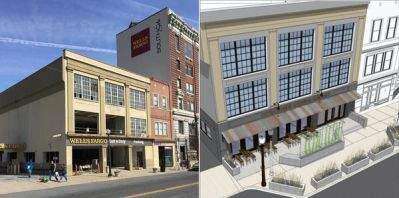 Published January 02. 2020 11:00PM
An art exhibit and behind-the-scenes tour of New Seven Sirens Brewery highlight new renovations at a former parking deck adjacent to the Flatiron Building, West Fourth Street and Broadway, on Bethlehem's south side.
The 6 p.m. Jan. 3 event is being held as part of the SouthSide Arts District's January "First Friday."
Seven Sirens Brewing Company is finalizing the transformation of an underutilized parking deck into an 8,500-square-foot brewery and taproom.
The site, originally a company store for Bethlehem Steel Corp. and then a car dealership for 50 years, is being transformed into a brewery and taproom as part of a $4-million adaptive reuse and urban infill project spearheaded by developer Larry Eighmy of Sycamore Hill Farm Development and project managed by The Stone House Group.
The building at 327 Broadway includes a district magistrate office and nine apartments. The structure is being rehabilitated to provide mixed-use commercial and residential space with architectural design by East Spruce Design Build and construction by Elevate Construction Partnership. The Flatiron Flats apartments are expected to be available in 2020.
"We're excited to welcome the public into these wonderful spaces and show them what the revitalization and reuse of buildings can accomplish," said Eighmy.
"The rehabilitation of the Flatiron Building, and now the introduction of Seven Sirens represents a new frontier in how local historic structures can be adapted to serve the 21st century," Eighmy said.
Seven Sirens Brewing Company is a veteran-owned brewery founded by partners Josh Divers and Jordan Serulneck, a U.S. Navy veteran.
"It has been a lengthy process, but we finally see the light at the end of the tunnel," said Serulneck.
"Being able to invite people into the brewery for the first time is exciting, and we're looking forward to showing off what we've been working on over the past three years and having patrons try our beers. Combining it with a new art exhibit and the Flatiron's new look on 'First Friday' is just icing on the cake," Serulneck said.
An opening reception is being held for work by Bethlehem photographer Glenn Koehler in the Flatiron Building to celebrate the recent renovation of its first floor by interior design firm Swine Design.
Koehler, a South Bethlehem resident, is Director of Marketing and Public Relations at the National Museum of Industrial History and Director of the SouthSide Film Institute.
"My intention for the Flatiron exhibit is to showcase a wide variety of Bethlehem scenery, from classic shots of the blast furnaces to viewpoints and locations rarely seen," said Koehler.
"I hope my work allows people to not only enjoy some of Bethlehem's beautiful vistas, but to provide perspectives that are different from the way nearly everyone has seen the city," Koehler said.
The event will feature additional photography from Koehler in the building's community room on the 5th floor, along with a beer-tasting courtesy of Seven Sirens Brewing Company.
The Flatiron Building, designed in 1910 and opened in 1911, was built to house the E. P. Wilbur Trust Company, owned by Elisha Packer Wilbur Sr., a President of Lehigh Valley Railroad and the nephew of Asa Packer.
The building, designed by Lehigh Valley architect A. W. Leh, was considered a paragon of modernity, costing $200,000 at the time, nearly $5.5 million today adjusted for inflation.
The Flat Iron building, featuring a majestic brick and granite façade and a banking vault constructed utilizing 140 tons of Bethlehem Steel, opened with great fanfare, including a parade and performance by the Bethlehem Steel Band on the building's rooftop.
The building houses Wells Fargo Bank, WDIY 88.1 FM, Lehigh University's offices of Government and State Affairs and Communications and Public Affairs, and The Stone House Group, among others.