SALISBURY TOWNSHIP BOC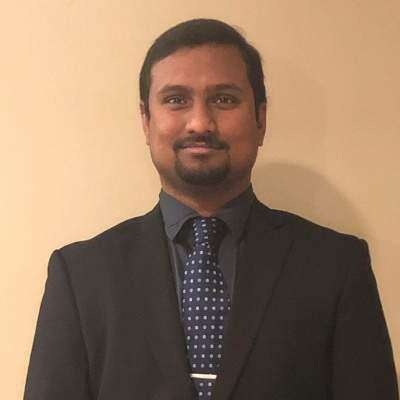 Published July 02. 2020 12:00AM
A Dun & Bradstreet computer expert who is a Western Salisbury Volunteer Fire Company official has been appointed to represent the fifth ward on the Salisbury Township Board of Commissioners.
Alok Patnaik will serve through Jan. 1, 2022, filling out the unexpired term of Joanne Ackerman, who took the oath of office in January after being re-elected in the November 2019 general election.
Ackerman, who had served 10 years, submitted her resignation May 11. Her resignation was accepted by a 4-0 vote at the May 14 commissioners' meeting.
Patnaik, senior leader of technology, Dun & Bradstreet; treasurer and firefighter, Western Salisbury Volunteer Fire Company and a Salisbury resident for six years, was chosen from a field of six fifth ward residents who applied for the post.
Commissioners voted 3-1 at the June 25 meeting to appoint Patnaik, chosen over the other finalist, Andrew Katz, director of academic affairs, Solomon Schechter Day School, Bergen County, N.J.; member, Salisbury Township Civil Service Commission and a Salisbury resident for six years.
Voting for Patnaik were board of commissioners President Debra Brinton, Vice President Rodney Conn and Commissioner James Seagreaves. Voting for Katz was Commissioner Heather Lipkin.
The June 25 commissioners' meeting was held via Zoom. At one point, 36 people were shown on the computer screen to be signed up for the meeting.
Before her vote, Brinton said of the two commissioner finalists, "I like them both."
"It is a tough choice," Salisbury Township Manager Cathy Bonaskiewich said.
"Be on the hot seat. Go ahead," Seagreaves said to Brinton.
Had Brinton not voted for Patnaik, a tie vote would have been broken with a vote from Salisbury Township Vacancy Board Member Dan Moyer, who was signed on to attend the meeting.
"Under normal circumstances, we would have a swearing-in ceremony and the new commissioner would take a seat," Bonaskiewich said, adding, to Patnaik "You'll be ready to go July 9."
Township commissioners are next scheduled to meet 7 p.m. July 9, again via Zoom.
In addition to Patnaik and Katz, fifth ward commissioner applicants included: Michael Ciamacco, a distribution substation engineering supervisor for PPL Corp. and a Salisbury resident for three years; Kenneth Krasley, a territory sales manager for Stanley Black & Decker Storage Solutions Vidmar-Lista and a Salisbury resident for 34 years; Joshua Ravier, a property claims adjuster for Choice Solution Services and a Salisbury resident for two years, and Kelly Hudock, who withdrew her name June 25 before the vote.
"This was a good difficult situation," Seagreaves said. "I don't think the township would go wrong with any of the applicants."
Brinton noted two township commissioners have been replaced in the past year. Lipkin, representing the first ward, succeeded Robert Martucci Jr., who resigned last year for retirement.
Before the vote, Patnaik and Katz spoke and answered two questions.
"I moved to this town a little over six years ago," Patnaik said. "I went to the fire department. And even though I didn't have experience, they welcomed me.
"I would like to see more e-governance and I have a background in that."
"I'm excited to participate in local government," Katz said. "Since we moved here six years ago, one of the things we loved about Salisbury Township was the family feel."
Of his appointment to the township civil service commission, Katz said, "My work there has been incredibly rewarding.
"People care deeply about the township and I care deeply about the township and the policies," Katz said.
Brinton asked each finalist if they were aware they are filling out an unexpired term.
Should the appointee choose to run for the fifth ward seat, it's expected he would need to run in the 2021 primary election.
"I'm fully aware of that process. I want to participate and contribute, and that's not only for the next 16 to 18 months," Katz said.
"Yes, I am fully committed," Patnaik said.
Conn asked the pair about their experience serving on boards.
Katz said of his serving on the civil service commission for three years, "I've had the opportunity to work with two chiefs [Chief of Police Kevin Soberick and retired Chief of Police Allen W. Stiles].
"I have worked with boards and committees. My background is that of an educator. You're thinking about planning, finance. You're thinking of all those different pieces."
Patnaik said as treasurer and board member of Western fire company, "One of my responsibilities is to plan finances. I've been in that role since 2017 and we have been under budget."
Patnaik has experience in cybersecurity as a volunteer with the Lehigh Valley Chapter of The Association of Certified Fraud Examiners since 2016.
He was web developer for "A Night for Darfur," which raised funds for the humanitarian crisis in Darfur, South Sudan.
Patnaik was coordinator and teacher for The Learning Foundation India, emphasizing special education courses for underprivileged children in rural communities.
Patnaik received a Bachelor of Technology in information technology from the Malaviya National Institute of Technology, Jaipur, India.