Reopening churches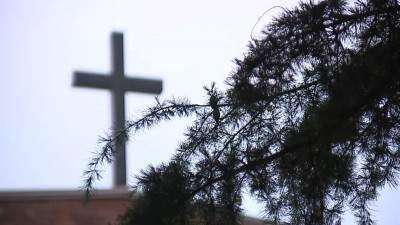 Published June 23. 2020 12:00AM
Knowing what is open or closed, as well as what restrictions apply, has been a challenge for the past 10 weeks. Beginning at 8 p.m. March 25, Northampton and Lehigh counties have been under a "stay at home" order. For people of faith – who might have expected First Amendment protections to afford houses of worship at least the same level of openness as grocery stores – the situation has an additional layer of frustration and confusion.
As we reported in late March, churches have responded to the shutdown order in widely varied ways. Two Lehigh Township faith communities – Bethany Wesleyan Church and Hope Lutheran Church – immediately moved worship services to Becky's Drive-in, which provided the space free of charge, with the provision that snack stands and restrooms would remain closed. Most other faith communities opted to make services available for viewing only, via online livestream and/or recorded video. Some continued to offer religious instruction and committee meetings via interactive video applications such as Zoom.
Northampton and Lehigh Counties moved to yellow June 5 and will move to green June 26. Churches have begun to open or plan for opening in varying degrees.
Baptist churches
The Elder Board of Bethel Memorial Baptist Church (Easton) continued its suspension of all meetings of more than 10 people at the church until Gov. Wolf's office declares that Northampton County is in the yellow phase. Pastor Brent Robinson's sermons (audio) and PowerPoint presentations continue to be available online (http://bethelmemorialbaptist.org/recorded-sermons-power-points/).
First Baptist Church of Easton continues to offer Pastor Arthur S. Gilmore's audio sermons, video sermons, a Wednesday evening faith series, and a spiritual blog on its website (http://firstbaptisteaston.com/).
Calvary Baptist Church (Easton) continues to offer activities on its website (https://calvarybaptistpa.org/), including worship services, Wednesday night Bible study, and small group ministry participation via Zoom. The church, led by Pastor Paul Wilson, has a downloadable app to make digital participation easier, as well as links for streaming through a web browser.
Fellowship Baptist Church, which shares a physical space with St. John's United Church of Christ on William Penn Highway, continues to post Pastor Barry Webb's sermons online "until such time as it is determined that we can [worship in person] without putting others in danger." Updates will be available online (https://www.fellowshipbaptist-pa.org/life-goes-on).
First Baptist Church (Bethlehem), led by Rev. Dr. David Hardin, offers livestreamed worship services, videos of past worship services, and recorded sermons (http://fbc-bethlehem.org/covid-19/). The church office remains open to serve parishioners' needs.
Episcopal Diocese
of Bethlehem
On May 26, the Rt. Rev. Kevin D. Nichols, Episcopal bishop of Bethlehem, published Phase II reopening guidelines that, although not mandatory, are meant to help pastors chart a reopening course. "Though your county may transition into the Yellow Phase by order of the Governor," the guidelines state, "the gradual reopening of our congregations will depend on whether church leaders feel that they are ready and have strong protocols in place for ensuring the well-being and safety of all parishioners, which may be anytime after your county has received the Yellow designation." Some guidelines are:
• Reception of the Eucharist is strongly discouraged;
• Congregational and choir singing is strongly discouraged, but masked cantors/soloists may be considered;
• In-person gatherings are limited to 25 people, and must involve logs of attendees to facilitate contact tracing, but outdoor gatherings may be larger;
• All congregants must wear masks at all times;
• Prayer books and hymnals must be removed from churches to prevent their use; and
• Sanitizing protocols must be followed after each in-person gathering.
Additional information is available here (https://diobeth.org/message-from-bishop-kevin-phase-ii-guidelines/).
Evangelical Lutheran Church in America
parishes
In guidance similar to that of the Bethlehem Episcopal diocese, the Evangelical Lutheran Church in America (ELCA) provided a framework for its parishes on May 12. These guidelines include:
• Clean and disinfect all spaces prior to the return of congregants;
• Ask people not to attend services if they are ill, have been exposed to the novel coronavirus, or have compromised immune systems;
• Consider whether "drive-up" worship service is appropriate for your community;
• Instruct parishioners on restroom distancing and make the appropriate provisions;
• Remove prayer books and hymnals to prevent their use;
• Do not provide nursery services;
• Use tape to close off rows to keep worshiping households six feet apart;
• Churches are advised against sharing Holy Communion "until well into the final phases of gatherings of 50 or more people."
Individual parish websites and Facebook pages are the best source of up-to-date information on services at each Lutheran church.
Muslim community
The Muslim Association of the Lehigh Valley (based in Allentown) is continuing the suspension of all daily and congregational prayers that began March 17. Eid prayers were offered online May 24, and an Eid drive-through of food and candy was held at the group's Whitehall location.
Jewish communities
Congregation Keneseth Israel (a Reform community in Allentown) is hosting its weekly Shabbat services as well as its annual congregational meeting June 10 via Zoom. Information is available on the community's website (https://www.kilv.org).
Congregation Sons of Israel (an Orthodox community in Allentown), led by Rabbi Nisan Andrews, has canceled religious services until further notice, but group prayer and study are taking place via Zoom (http://www.sonsofisrael.net/).
Congregation Brith Sholom, led by Rabbi Michael Singer, continues to offer services, religious education, and small group meetings via Zoom (http://www.brithsholom.net/covid19-resources/).
Temple Beth El (a Conservative community in Allentown) continues to provide access to Minyanim, Shabbat, and other services are via Zoom and Facebook (http://www.bethelallentown.org/Worship.cfm).
Chabad Lubavitch of the Lehigh Valley (a community in Allentown inspired by the Lubavitcher Rebbe) offers a host of resources online (https://www.chabadlehighvalley.com), and helped congregants to celebrate Shavuot by offering curbside treat pickup on May 27.
Messianic Jewish communities
Beit Simcha Messianic Fellowship (a Messianic Jewish community in Allentown), continues to hold its Shabbat services online-only via its YouTube channel (https://www.youtube.com/channel/UCrbUTFamuVGAyZ8HfMMJGpQ) "until the pandemic subsides."
Beth El Gibor (a Messianic Jewish community in Bethlehem) continues to offer its services online (https://www.bethelgibor.org/).
Moravian churches
Coronavirus-related updates for the global Moravian Church are available online (https://www.moravian.org/2020/05/covid-19-updates/). Information on summer camp closures and postponements is available as well (https://www.moravian.org/2020/05/2020-moravian-summer-camp-update/).
Music minister Becky Lepore of Central Moravian Church in Bethlehem continues to post "musical moments" of inspiration on the church's Facebook page (https://www.facebook.com/centralmoravianchurch). Worship services are also being recorded and published online.
East Hills Moravian Church in Bethlehem continues to offers its services on Facebook (https://www.facebook.com/easthillsmoravianchurch/) and YouTube (https://youtu.be/M1_lBOFiUFY).
Presbyterian churches
The Presbyterian Church (PC USA) provides guidance on its website (https://www.pcusa.org/site_media/media/uploads/covid-19/returning_to_public_worship_may_2020.pdf) to session leaders considering reopening. Named considerations include the ability for church corporations to "offer a defense if someone gets sick or is otherwise harmed when they reopen" and "what behaviors [insurance companies will require] of participants to reduce risk." Sanitation measures, physical distancing, and masks are all discussed in the guidance document.
Rev. J.C. Austin of First Presbyterian Church (Bethlehem) posted a special message to his congregation May 23 stating that "The Session has been discussing for some weeks now the various concerns and possibilities about whether, when and how to resume any in-person activities of the church when Northampton County goes 'yellow.' We […] have been doing our analysis and discernment with [the June 5] potential deadline in mind. While the work is not currently complete, it will be before June 5, and the Session will be updating the congregation on its plans accordingly before the change to yellow happens." Pastor Austin notes that "any changes to a policy of digital-only ministry will only come when the Session is satisfied that we can do so without an unacceptable risk to the health and well-being of those in attendance." Livestreamed worship services are still available on Facebook (http://www.facebook.com/firstpresbethlehem) and the church's website (https://www.fpc-bethlehem.org/).
Roman Catholic Diocese of Allentown
After one week of holding public Masses but suspending the obligation to attend, the Roman Catholic Diocese of Allentown canceled all public Masses. Churches with video capability began to offer online access to livestreamed and/or recorded services. Raised in the belief that "the Sunday Eucharist is the foundation and confirmation of all Christian practice," many Catholics protested this cancellation to Bishop Alfred Schlert, who acknowledged in an April 27 open letter that some believers have "express[ed] great anger with me and the hierarchy of the Church for the public health measures that we have adopted." Bishop Schlert asserted that "the Evil One is usurping [sic] this distance from the Holy Eucharist to divide members of our Family of Faith." A few weeks later, however, he announced that public Masses would resume June 1, with indoor services restricted to 25 percent of a building's capacity, physical distancing required, and masks required for the congregation. The Eucharist will be distributed "in a manner that protects the health of the people involved."
The obligation for Catholics in the diocese to attend Sunday Mass will remain suspended, and online viewing of Mass will remain available, at least until the entire diocese is told by Gov. Wolf that it is in the "green" phase.
Because of the vastly different parking facilities and worship spaces available at Catholic churches throughout the diocese, Mass offerings will likely differ widely. For example, Notre Dame of Bethlehem, which has been holding "drive-in" rosary sessions in its parking lot, has posted information about indoor weekday services (masks required, BYO sanitizer, every third pew, four people per pew) and outdoor (in-car) weekend services (https://www.ndbethlehemchurch.org/). Individual parish websites and Facebook pages are the best source of up-to-date information on Masses and other sacraments, including Reconciliation.
United Church of Christ congregations
The United Church of Christ continues to offer worship services online. Local congregations can be found using the faith's website (https://www.ucc.org/find).
United Methodist churches
In-person services are still suspended at Green Pond United Methodist Church. Weekly sermons are recorded and available online (https://www.greenpondumc.com/worship).
Although in-person participation is not currently possible at Epworth UMC (Bethlehem), members of the church can join in worship via Facebook or Zoom. Information on both options is available on the church's website (http://epworthbethlehempa.org/).
Wesley United Methodist Church (Bethlehem) continues to provide livestreamed worship, as well as recorded worship services, sermon transcripts, and bulletins online (https://wesleychurch.com/).
Other denominations
Ebenezer Bible Fellowship Church (Bethlehem) continues to livestream its weekend and mid-week worship services (https://aplaceforyou.org/sermons/). In-person worship will not resume prior to June 21. Church Elders are determining plans for in-person worship, to be shared May 31 with the community; office administrator Robbin Hunsberger advises members of the church to check the events page (https://aplaceforyou.org/news/) for updates.
GRACE Church Bethlehem continues to offer online services (https://www.gracecb.org/gracelive/), including live worship services on Sundays at 9:00 a.m. and 10:30 a.m., games and religious education for middle and high school students on Sundays at 7:00 p.m., and mid-week Bible study with Dr. Mark Crumpler.
Life in Christ Church (Bethlehem) continues to offer livestreamed Sunday worship services as well as recorded sermons (https://lifeinchristchurch.com/).
New Covenant Christian Community Church (Bethlehem and Macungie) continues to offer livestreamed services (with and without live chat: https://www.nc4.org/) while its elders determine how to fulfill "deep, normative Godly desire and need to see and to join lovingly with one another physically in the Presence of God" while "submitting to authority" and "gathering safely." Updates will be posted as they are determined (https://www.nc4.org/covid-19/).