Ramer paints sports stars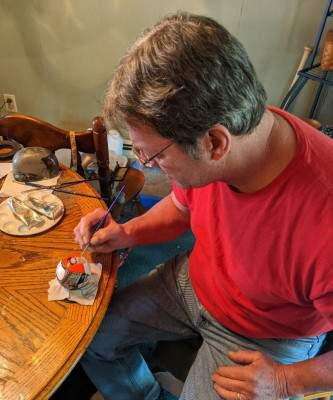 Published May 14. 2020 12:00AM
In the early 1970s, Steve Ramer was on the Emmaus High School baseball team dreaming of going further with his baseball career. Ramer was good enough to catch the eye of scouts, including some from his beloved Pittsburgh Pirates and from the Philadelphia Phillies.
The Pirates were interested in Ramer, but he was still in high school and not allowed to be signed. The Phillies caught him after high school and signed him to a minor league contract that saw him start his career with the Pulaski Phillies in 1974, where Ramer hit .369 in his first season.
The next spring Ramer suffered an injury that plagued him all season. His production slid and his second season would turn out to be his final season in minor league ball.
"I remember putting on my uniform and looking inside the pants and seeing 'M. Schmidt' embroidered on the inside. As luck would have it, I was wearing a uniform worn by Mike Schmidt, who was in the majors at that point," remembers Ramer. "I guess that's my claim to fame that I wore Mike Schmidt's pants."
Schmidt went on to be a Hall of Famer and Ramer returned to life away from baseball, sort of. The former minor leaguer got a nine-to-five job and resumed his hobby of drawing and painting.
About 12 years ago Ramer started doing his paintings on baseballs, bats, home plates and other sports objects. Before long he was selling them to sports fans, which he continues to do today through his website famousbaseballplayers.net.
"People had started coming to me and asking me to paint their sports heroes on a baseball or bat or something and that's still the bulk of my work today," said Ramer. "Fans want a painting of their favorite player on something other than just a canvas."
In addition to baseball players painted on baseball equipment, Ramer branched out to painting football players on footballs. He's even been asked to do paintings on gun stocks and to paint racing heroes on race car pistons. The likenesses of his subjects are spot-on and he's able to add team logos, flags of the players' homeland and other items like statistics.
Branching out even further, Ramer has done paintings of broadcasters and managers. While the focal point may be the player's face and uniform, the most difficult part is adding any statistics that the customer would like to have included.
"I always start by doing the statistics, if that's what somebody wants on them," said Ramer. "That part of the process is less forgiving, so if I mess it up and ruin the ball or bat, I don't want it to be after I had spent a lot of time painting the player.
"With the players, sometimes one slight brush stroke here or there changes the way the entire painting looks, but in general, painting the faces isn't too difficult."
Ramer starts by drawing his subject and then begins the process of painting. Working from photos of players, it's sometimes difficult to get just the right mix of colors to make the painting perfect. Most of his creations take between 25 and 30 hours to complete. When the subject of his work is an older player, one difficulty is finding the right photo - especially a color photo - to get the painting just right in order to satisfy both himself and the customer.
Growing up a fan of Hall of Famer Roberto Clemente, it's not surprising that a painting of Clemente done on a bat is one of his favorites. He's also especially proud of a painting of Rangers catcher Ivan "Pudge" Rodriguez that he created on a catcher's mitt and a ball featuring the likeness of Yankees great Yogi Berra.
Ramer expresses his love for the game of baseball through his paintings and satisfies his love for playing the game by competing in the Senior Baseball League, which is still on hold for the summer. While he may not have ever reached the majors, Ramer has spent a good chunk of his life enjoying the game both on the field and through his art.
"I have always loved baseball," professed Ramer. "And this, for me, is a passion."