Groups discuss 2020 events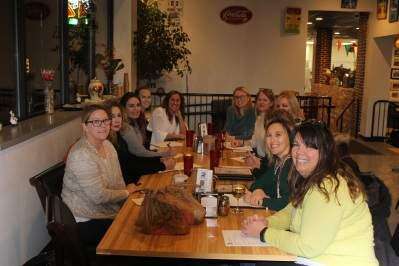 Published February 11. 2020 11:00PM
Catasauqua Main Streets, the borough's business owners association, held a meeting Jan. 28 at Pie's On Pizzeria, Front and Pine streets, Catasauqua, with its Whitehall Area Chamber of Commerce partners to discuss business programs for 2020.
"We are all excited about our schedule. We have great events planned throughout the year," said Jessica O'Donnell, executive vice president of affiliated chambers for Greater Lehigh Valley Chamber of Commerce, who is the go-to contact for small-business owners and local organizations in Catasauqua.
The team had a ribbon cutting Jan. 9 at Violet's Closet, 517 Front St., Catasauqua.
There is a mixer titled Love Yourself, Love Your Community planned 5:30-7:30 p.m. Feb. 14, with a Zumba class 6:30-7 p.m., at Suburban North Family YMCA, 880 Walnut St. The event is open to everyone.
For further information and to RSVP, email Jessica O'Donnell at jessicao@lehighvalleychamber.org.
Also planned is a ribbon cutting at Jupiter Crush March 24 to celebrate the business' third anniversary. The event will start 5 p.m. and will feature light refreshments and snacks.
Restaurant Week is scheduled April 19-25. A list of all the participating restaurants will be available soon.
The newly inaugurated StrEAT Festival, along Front Street, is in the works for June 6. Organizers are looking for vendors and bands.
The Chamber team is at Catasauqua Municipal Complex, 90 Bridge St., 9 a.m.-1 p.m. every Tuesday. Members are available to meet with business owners during that time.