NEWS&VIEWS-Area residents attend Pro-Life March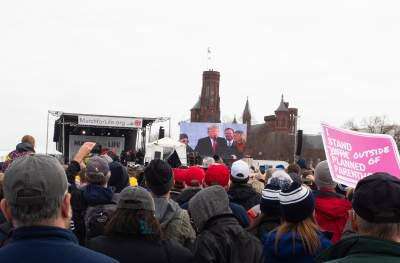 Published February 02. 2020 11:00PM
Piling into buses, cars and trains, Lehigh Valley residents traveled to the 47th annual March for Life in Washington, D.C., to see President Trump make history. On January 24, Trump became the first U.S. president to appear in person at the march.
Marchers waved pro-life signs, banners and flags during the rally on the National Mall as Trump told the crowd he was proud to stand with them in their fight to defend the right to life of unborn children.
"It's a great thing to have a president who will not only speak for us, but who will put into action what we want to see happen in this country as far as protecting life," said Mario Madawela, treasurer of Lehigh Valley Pro-Life Future, a young adults group affiliated with Students for Life of America. "It's really exciting. I felt like I was at a Trump rally too."
Rita Ender took the bus to the march from Our Lady of Perpetual Help Church (OLPH) in Bethlehem Township.
"I was just so proud of President Trump," said Ender who has attended more than two dozen marches. "The whole United States is proud of him, probably the whole world is proud of him, proud that he's the first pro-life president to speak at the March for Life. ... What he says, he does!"
Pro-life Americans came from all across the country to see Trump give his address and to participate in the march that attracted more than 100,000 people.
"We're here to defend the right of every child, born and unborn, to fulfil their God-given potential; to stand for life, and today as president, I am truly proud to stand with you," Trump said to the delight of pro-life rallygoers who listened closely and cheered enthusiastically.
March for life president Jeanne Mancini presided over the event. Other speakers included State Sen. Katrina Jackson (D-LA), Marjorie Dannenfelser, president of the Susan B. Anthony List; and abortion survivors Claire Culwell and Melissa Ohden.
The March for Life is promoted by its organizers as the largest human rights demonstration in the world. It was first started 47 years ago in 1973 after Roe v. Wade legalized abortion. Since then, there have been more than 60 million abortions in the United States. In Pennsylvania, there were 30,364 abortions in 2018, according to the most recent report from the Pennsylvania Department of Health.
The Pro-life movement has been gaining momentum in reaction to laws permitting late-term abortions in New York, Colorado, Oregon, Arizona, Vermont and New Hampshire.
In addition to Washington D.C., there are now significant pro-life marches in major cities including Chicago, Denver, San Francisco and Paris, France. The March for Life is sponsoring three marches in state capitals: Richmond, February 13; Hartford, April 15; and Harrisburg, May 18.
Pro-lifers are working hard to re-elect Trump, the only pro-life candidate in the 2020 presidential race. The Susan B. Anthony List, a pro-life political action organization, expects to spend $52 million to re-elect Trump. Planned Parenthood expects to spend $45 million in Pennsylvania and eight other battleground states.
Pro-life and pro-choice advocates are looking ahead to next month when the U.S. Supreme Court will hear a case about a 2014 Louisiana law that requires doctors at abortion clinics to have admitting privileges at local hospitals. This case is controversial because it could lay the groundwork for overturning Roe v. Wade. It is also the first abortion case that the Supreme Court will rule on since Trump appointed justices Neil Gorsuch and Brett Kavanaugh.
"In March of this year, we will be at the U.S. Supreme Court and we will fight for life because it's the most important thing we can ever fight for…" said Louisiana state Sen. Katrina Jackson (D) who spoke after Trump at the rally and who wrote the 2014 Louisiana law.
At the state level in Pennsylvania, pro-life legislation has been difficult to pass. Gov. Tom Wolf, a Democrat, vetoed House Bill 321 that would have prohibited abortions on unborn babies diagnosed with Down Syndrome. He also vetoed Senate Bill 3 that would have banned abortions on unborn babies after 20 weeks gestation and would have prohibited dilation and evacuation (dismemberment) abortions on unborn babies before 20 weeks gestation.
Andrew Azan is the Bethlehem Township area Republican chairman. He knows the importance of his vote to the pro-life movement and has gone to the march at least 15 times.
Azan serves as the bus captain for St. Jane Frances de Chantal Church in Easton. He rode on the bus to the march with 53 people including parishioners from other area churches: St. Anne's, Sacred Heart, OLPH, St. Rocco's, and Holy Family.
"My job is to make sure that everyone is accounted for on the bus and to make sure everyone is safe on the trip there and back," said Azan who is very positive about Trump's growing role in the pro-life movement.
"I think President Trump has come a long way," Azan said. "At one time President Trump was pro-choice. Now he's pro-life. What this shows is that people's hearts can change. I'm sure that when president Trump sees all the people at the march, it has to move him. I know it moves me."
Ender and her friend, Mary Ann Briggs, went to the march together. Briggs said that she comes to the march because of her concern for people of all ages.
"I'm here because I love all lives," said Briggs who wore a Trump 2020 cap. "I love the babies, preborn and born. All people. People that are infirmed, the elderly, and people that are challenged. They all have a right to life."
Wearing a red and yellow jacket decorated with pro-life buttons, Ender spoke excitedly about the all the young people who come to the march. Many of them carry signs proclaiming "We are the pro-life generation."
"There are thousands of young people who come from all over the country and who are just so enthusiastic about defending life," Ender said. "They are our future leaders!"
Bethlehem Catholic High School sent a bus full of students to the march. They carried a "Bethlehem Catholic is Pro-Life" sign and posed for photos at the Supreme Court.
A senior at Bethlehem Catholic, Lauren Paulus wore a Trump "Keep America Great" cap during the march. Paulus said that she wasn't at all hesitant about wearing her cap even though students from Covington High School were wearing MAGA caps when they were confronted at the Lincoln Memorial by political activists after last year's march.
"Trump is the first president to come to one of these marches, and he's pro-life himself," Paulus said. "Most people who are pro-life tend to be more conservative. And even if it (the march) wasn't a more conservative environment, I would still wear it because it's my opinion and I have just as much right to voice it as anyone else does, and that's why I'm here."
Bethlehem Catholic freshman, Luise John, sees the march as a way to inspire women in crisis pregnancies to keep their babies.
"The March for Life could be a sign to a someone thinking about having an abortion," John said. "Like hey it's okay to have the baby because all these (pro-life) people are going to support you."