Second-half surge lifts Beca over Emmaus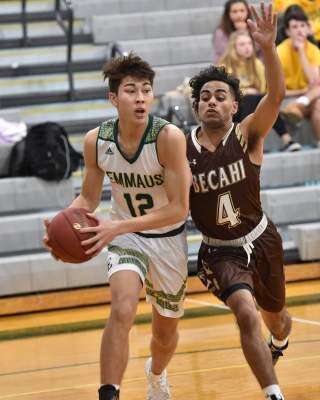 Published January 08. 2020 11:00PM
It has been an up-and-down 2019-20 season thus far for the Emmaus boys basketball team.
Following the graduation of a successful senior class last year, including its entire starting lineup and sixth-man, head coach Steve Yoder knew this year would be difficult and would take some time to get some inexperienced varsity players acclimated to the new level.
The Green Hornets hit a road block in a talented Bethlehem Catholic team that used a second half surge to take down Emmaus (4-8 overall, 3-4 EPC) 61-48 last Thursday night in an Eastern Pennsylvania Conference matchup at Emmaus High School.
"Becahi's a talented team," said Yoder. "They can beat you in so many ways, and they showed that tonight. They had a couple of guys that had good nights and we weren't able to stop them. I thought that we had some good things happen, but we need to keep improving on all facets."
After scoring the first basket of the game, Becahi (7-5, 3-3) mostly found itself trailing in the first quarter as the Green Hornets went up by as many as four points, 8-4, before the Golden Hawks went on a 12-3 run to end the quarter leading 16-11, and never trailed the rest of the way.
Emmaus cut its deficit to three, 20-17, midway through the second quarter, but Becahi would lead 27-20 at halftime, and then extended its lead to double-digits in the third quarter, leading 41-28 after three, and never looking back.
Julian Thomas and Isaiah Alexander stepped up in a big way for their team. The duo tallied a game-high 18 points each in leading the Becahi offense, which had seven different players in the score column, including Ryan Glassmacher and Ryan Santana who each just missed reaching double-figures, scoring nine and eight points respectively.
Seniors Jayden Walsh and Mason Boyd each scored a team-high 11 points for Emmaus. Danny Bohman finished with nine points, Patrick Tulio recorded six points and Jameel Sanders netted five points. Both Meech Rogers and Jadis Brevitt contributed two points to round out the Emmaus scoring.
"These boys work really hard and I love that about them," Yoder said on his team overall. "You never hear them complain, they just compete and play, and that's all I can ask for out of them."
Emmaus bounced back to defeat Pocono Mountain East the next night. The Green Hornets were at Liberty this past Tuesday and host East Stroudsburg North Friday to round out the week.