Liberty girls top WHS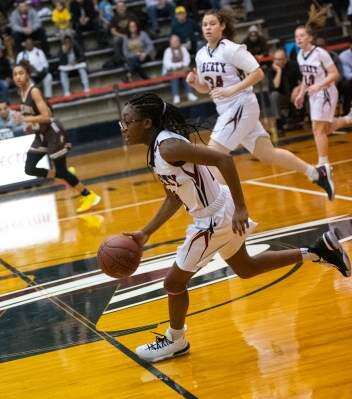 Published January 08. 2020 11:00PM
Whitehall had the height, but Liberty had the speed, and speed and scrappiness won in the Hurricanes' 48-46 victory over the Zephyrs on Saturday night at Whitehall.
"Usually our offense can't make shots because of height, but tonight we hit some threes, stayed with them, and our effort was there," said Liberty guard Kathryn Wescoe.
The Hurricanes trailed by as many as 12 points in the first half but that was about to change to the Zephyrs' surprise.
"We wanted to get the pace increased, which is what we wanted to do initially, but they were making some shots and we weren't rebounding the ball as crisply, so what we talked about at halftime was we really have to pick up the intensity on the defensive end, full court," said Liberty head coach Andy Wescoe.
In a true team effort, Kathryn Wescoe created numerous turnovers, Erin Eisenhart put up double figures in the second half, Julie Curti pulled down multiple rebounds, freshman Jessica Farrell handled the ball like a veteran, Alondra Cruz was Liberty's height presence, and Layla Orth came through with a three near the end of the come-from-behind win.
"My role is to be aggressive and pass off to other people to score so I just gave it my all and tried not to foul," said Kathryn Wescoe. "This [win] was good for us to get our momentum back."
Eisenhart and Cruz started the offensive rally in the third quarter for the Hurricanes with 11 points between them.
"It's one of those things where we were down and someone needed to step up and take the scoring role because we were attempting shots on offense, but we weren't really making any, so it was key to have someone go to the basket more," said Eisenhart.
Halfway through the third quarter, Eisenhart jumped for a pass that could have gone out of bounds and was fouled on the play. Later, Eisenhart got down court and scored on a quick pass from Farrell to pull the Hurricanes within one point.
"Even before the game, [Coach Wescoe] said we need to demand the tempo and let them know it's our game," Eisenhart said. "Just because it's their court and they have all their fans here, that doesn't mean anything. We needed to bring our A game and make sure we were setting the tone."
Liberty took the lead in the fourth quarter on free throws by Orth and a three pointer by Farrell.
Whitehall then took the lead back with buckets by Rachel Ganser and Grace Clary, but two more points from Eisenhart and a three pointer from Orth with 1:25 left was a turning point in addition to the Zephyrs missing four free throws.
"I think us, speeding them up, changed things a lot," said Coach Wescoe. "It allowed us to get more penetration and get into early offense where we were getting more looks, we were getting some steals-in-transition buckets, and it took them out of running some of their sets."
Also of note was Curti's rebounding.
"She does a great job. She's only 5'6 and she's battling in there, tooth and nail," Coach Wescoe said. "I give her a lot of lot of credit and she does a nice job on the floor with making the right decisions with the ball."
Liberty led 46-43 with 17 seconds left, but Kathryn Wescoe had one more turnover to create, and Orth sealed the game on two free throws.
"Our defense in the second half was tremendous. Our girls always fight hard," said Coach Wescoe. "We have our shortcomings but they play hard, they don't give up, they don't complain. I love 'em. They're great."