EHS girls take fifth-place in medley relay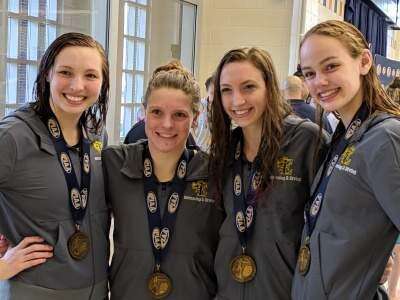 Published March 20. 2019 12:00AM
After taking team gold in the District 11 Swimming and Diving Championships earlier this month, the girls' swimming team came into states looking for a strong finish. The Hornets got what they hoped for with a medal performance in the 200-yard medley relay and some good finishes in other events this past Friday and Saturday at Bucknell University in Lewisburg.
The senior-laden team of Katie Champagne, Chelsea Gravereaux and Abby Heilenman teamed with freshman Lauren Sharp to finish fifth in the 200-yard medley relay.
The three seniors had a productive meet together as they were also part of the 400-yard freestyle team that finished ninth and the 200-yard freestyle relay team that finished tied for 10th with Conestoga High School. In both of those events, the trio was teamed with sophomore Peyton Rautzhan.
In the 200 medley relay, Emmaus finished third in the preliminaries with a time of 1:45.70 and cut that to 1:45.25 in the finals, but were passed by other teams that were able to cut even more time off of their preliminary finishes.
"It feels good, it's exciting, but it's bittersweet," said Gravereaux of medaling as a senior in the event. "We have a great group of girls and I'm looking forward to spending this weekend with them and we got some hardware, which is awesome. Overall, it's a great experience."
The team was hoping to reset the team record for the event, which stands at 1:44.28, but wasn't quite able to get there. The foursome also fell just shy of their personal best in the event, which stood at 1:45.02 from this year's District 11 meet.
"To go from districts to states, you really have to work hard because you have to cut as much time as possible," said Heilenman. "We've always had other goals and we came close to our team record, but just to swim as fast as we did and compete here was a lot of fun."
"We're happy," said Champagne of the team's accomplishment. "We had fun and did a really good job and everyone is happy with the performance."
Competing in her first state competition, Sharp was thrown right into the fray with the medley relay being the first event on the first day of Class 3A competition. Not long after competing in the relay event, Sharp took to the 200-yard individual for her first individual competition at states, finishing 29th.
"This is an awesome event," said Sharp. "We all dropped time and it's been a lot of fun. We talked a little about coming to states and we all had great expectations. It's not overwhelming, it's just a lot of fun and really exciting."
The 400-yard freestyle relay team cut 1.36 seconds off its qualifying time in the preliminaries and then dropped another 2.32-seconds in the finals to finish ninth. The team finished less than one second behind Garnet Valley in the preliminaries for eighth place, which would have guaranteed them a medal in the event.
In the team competition, Emmaus finished in 14th place, 16 points ahead of District 11 rival Parkland, who finished in 16th place. Emmaus broke the Lady Trojans 10-year hold on the District 11 title this season by taking the team championship earlier this month.