Seniors helped team battle adversity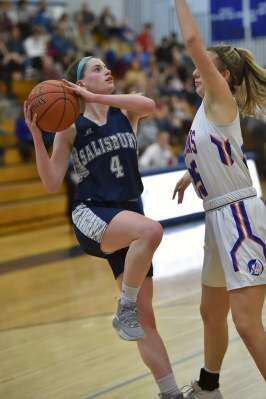 Published February 20. 2019 11:00PM
Injuries are a part of all teams. The severity of those injuries can have a major impact on how a season can play out.
The Salisbury girls' basketball team endured a number of injuries this past winter that played a large role in the Falcons' 2018-19 season. The Falcons finished 3-14 in the Colonial League, beating Catasauqua twice and Saucon Valley late in the season.
"It's hard for me to say that a three-win season is what I expected," head coach Dan Reichenbach said. "I was really hoping for 9-10 wins. I really did not take into account our lack of experience, and of course all the injuries and not having Olivia [Hoeing] all year really hurt. Olivia would have been a steadying influence on the court, providing leadership on both ends of the floor."
Hoeing missed the entire season due to health issues. She was one of two starters from the prior season that was scheduled to return and provide leadership for the Falcons' first-year head coach.
Instead, her absence forced a number of underclassmen to step into much larger, unexpected roles. And while they certainly held their own and proved themselves on the court, Hoeing's varsity experience was missed on the court.
A number of others also missed court time this winter. Junior Madison Bettuccio missed the early part of the season, while sophomores Krystal Aungst, Sierra Rauch and Melena Koutch all missed time at some point this season. Senior Erica Holben played through various injuries.
"This is a very young group," Reichenbach said. "How they do next year will be determined by how much time and effort they put into getting better in the offseason. It could be a much different season next year with a little time and effort put into the game."
Freshman point guard Quinn Wittman certainly thrived in her role and stepped up as a leader when those Falcons missed time. She led the Falcons in scoring and provided a blueprint as to what Reichenbach is expecting of his players.
"Quinn did a great job for us this year," Reichenbach said. "She played through leg pain all year, and she had to log a lot of minutes. She never complained and did everything I asked of her and more. She led us in scoring and did a great job handling the ball and on defense."
The seniors, however, will be missed. Erica Holben, Katie Rutt and Taliah Martinez will graduate in the upcoming months and leave voids to fill next season.
"The seniors are great kids," Reichenbach said. "They played hard and were enthusiastic all year, which is sometimes tough when you aren't having much success. It made the year much more enjoyable."