Rautzahn siblings helping lead team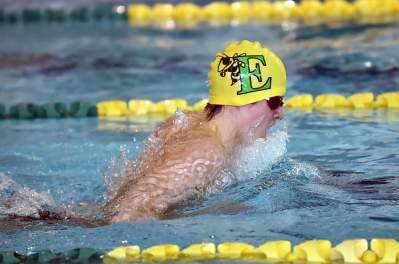 Published December 25. 2019 11:00PM
Swimming is one of those sports where individual and team battles take place at the same time. Swimmers are often focused on improving their times with an eye toward winning individual championships, while at the same time, helping the team to win both in relays and in team points that are accumulated based on those individual times.
Siblings Peyton and Luke Rautzhan are both in that phase now of helping the team in relays, but also looking to advance individually and hope to compete in states in individual events as well. The two started swimming when they were six and it turned more serious a couple of years after that.
They were both encouraged by their mom, who swam for Penn State. "That's why we got into the whole swimming thing," said Peyton of his mother's influence.
Ironically, they have different ideas on what it is about swimming that makes it exciting for them. Peyton is more into the pure speed of racing, while her brother focuses more on the strategy that goes into winning a race.
"I like the strategy in racing because not every race is one where you can just go out and sprint," said Luke Rautzhan. "Some races, you have to go out and hunt kids down and I enjoy that pursuit."
Meanwhile, Peyton isn't as much about strategy as she is about just competing.
"I'm kind of the opposite from him, I like to just swim and go at it in sprints," she said.
They are also opposites in how they encourage both each other and their teammates. When that topic came up, Peyton was quick to point out a key difference, saying "he's a little more tough love than I am."
For his part, Luke Rautzhan admits that he has a different approach from Peyton, but that the two have the same overall goal to help each other and their teammates become better.
"I'm tough on her and on my teammates, but when we're doing great, I love that and everything that we do we do as a team," he said. "We're different types of leaders when it comes to the team, but overall, we both agree that it's important to put the team over all else."
Their different types of styles are being utilized this season since the Emmaus team – both on the boys and girls sides – is a much younger team than it was last season. Even though they're both juniors, the Rautzhans are being looked at to be team leaders.
Luke has enjoyed getting to know the younger swimmers and helping them to adapt and Peyton is looking at the influx of youth as a way to help reshape the team.
"We lost a lot of senior girls last year, but I see that as a bit of a positive, because we could reshape the team culture and reach out to our underclassmen a little bit more," he said. "We're not focusing so much on just the older leadership; we're trying to encourage everyone to provide leadership with such a young team."
Last year at states, Luke Rautzhan finished 12th in the 200-freestyle and 17th in the 500-freestyle as an individual and was part of the team that finished 11th in the 400-freestyle relay. Emmaus picked up a ninth-place finish in the 400-freestyle relay and a 10th place finish in the girls 200-freestyle relay with Peyton swimming with three seniors in both of those events.
This time around, both would like to compete in individual events. Luke is hoping to make it to the finals featuring the top eight swimmers.
Luke Rautzhan recently set a personal best time in three events at the Cedar Crest Invitational and Peyton Rautzhan is now a part of a 200-freestyle relay team that set a pool record in a meet at Liberty High School earlier this season.
With their wins over East Stroudsburg South and Stroudsburg this past Saturday, both Emmaus swimming teams are now 5-0 on the season.