Trojans handle Hornets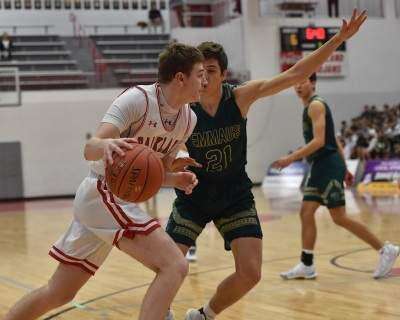 Published December 11. 2019 11:00PM
One could tell it was the season-opener for the Parkland boys basketball team. Whether it was early season jitters or rust, the Trojans came out of the gate flat, needing time to get their feet underneath them.
They were afforded enough time to regroup and gather themselves, coming from behind and using a strong fourth quarter to defeat rival Emmaus 61-49 Tuesday night in the regular season opener for the host Trojans (1-0, 1-0 East Penn Conference).
"It felt great coming out in our first game and getting a win," said senior Nick Rappa. "We started off slow, but pulled it together at the end. Our team chemistry this year is going to be a good thing for us. This is a close team. We all have each other's backs. That's going to help us throughout the season."
For almost 20 minutes it did not look like Parkland would win its first game. It led 7-6 early on, but saw the Green Hornets (0-3 overall; 0-1 EPC) hold the advantage for a majority of the first quarter until a basket by Rappa at the end of the frame gave the Trojans a 16-15 lead after one.
Parkland led by as much as four (23-19) in the second quarter, but Emmaus closed out the stanza on a 10-4 run to go up 29-27 at halftime. There were two ties and three lead changes in the third quarter as Parkland jumped out to its biggest lead of the game, 43-37, heading into the final quarter.
That is where the Trojans took control, playing their best basketball of the night.
Parkland outscored Emmaus 18-12 in the final eight minutes and from a 34-34 tie midway through the third quarter, ended the game on a 27-15 run to close it out.
"Coach [Andy] Stephens really motivated us at halftime," Rappa said. "He knew we could play better and so did we. We just needed to execute better, and that started at the defensive end. We always preach defense leads to offense.
"We just need to get one stop at a time and baskets will come after that."
Jake Melady led the way in scoring for the Trojans with 16 points, while adding two rebounds and four steals. He was followed by Rappa with 12 and five rebounds. Trey Rolle added 10 to round out a trio in double-figures. Jared Kucharczuk tallied eight points and Ja-Lon Perkins chipped in seven.
"There's a lot of depth on this team, anyone can lead the team in scoring on any given night," said Rappa. "Our bench pushes us every day to get better. Everyone pushes each other at practice and that helps with depth."
Parkland hosts Central Catholic tonight (Thursday) in another EPC showdown at 7 p.m.