Winter emergency plans detailed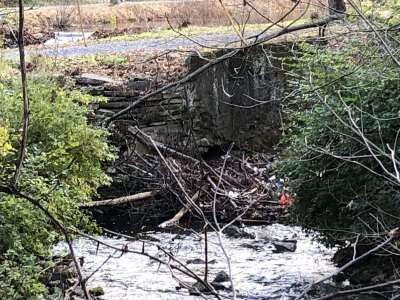 Published November 24. 2019 11:00PM
Plows and salt spreaders are being inspected and readied, advised Freemansburg Public Works Chair Jim Smith during the council meeting Nov. 6. Also reporting on winter weather preparations was Emergency Management Coordinator Jonathan Rossi, who said the borough is publishing an official response guide. "We put an action plan into place," Rossi said, listing examples, "... if we need power outages, if we need to form a warming station, charging station... what are the hazards, and how is that going to affect an ambulance getting to someone in an event of a crisis?"
One hazard the council hopes to eliminate is the deteriorating wall next to Lockhouse Road, at the point where Nancy Run and the Lehigh Canal meet the Lehigh River. "...[T]hat's ready to fall down now, its leaning way over, and we have no way of getting down there to clean all the debris that comes down the Nancy Run when it floods," said Smith, who proposed pursuing a grant to fund replacement.
Overdue sewer and sanitation fees totaling approximately $39,000 have been collected on behalf of the borough by Portnoff Law Associates, according to a report to council by the firm.
Multiple accounts remain outstanding, which can lead to seizure of homes, as in the example of 317 South Oak St. The Council unanimously approved Portnoff's request for a writ of execution on this property and to list it for a Free and Clear Sheriff's Sale.
Also on the agenda, and passed unanimously, were the following items: payment of November bills; opening of a bank account for Northampton County Local Share Account grants; identification of municipal records for disposition in accordance with state law; adoption of previous meeting minutes (with one abstention); and application to the Department of Community and Economic Development for a grant of $93,763 for the Security and Information Technology Improvement Project.
The Nov. 19 council workshop session will likely be cancelled. The next monthly meeting is December 3. Borough offices will close Dec. 24-26.