FHS girls soccer wins first title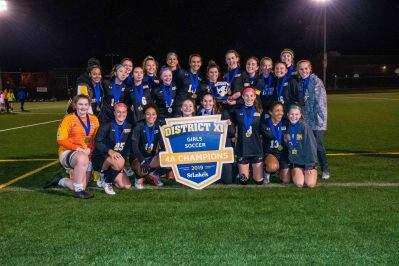 Published November 06. 2019 11:00PM
Freedom forward Katie Flynn held on to the District XI girls' soccer championship trophy like it was gold, but the gold was hanging around her neck, placed there by Coach Bob Eaton after the Patriots defeated Nazareth, 3-1, in the Class 4A final on Saturday night at Emmaus High School.
"It means a lot and we just brought it all together. It's post season, we're a whole new team, and we've been on a streak," Flynn said. "I told them at halftime this is not over. We have to go out and bring it 10 times harder than we played the first half."
The Patriots took a 2-0 lead in the first half on goals scored by Haley Gschrey at 31:39 and 20:15.
"That was important because we wanted to strike first and then push back more so they couldn't score," said Gschrey. "For two weeks now, we wanted to beat them because we never did any other year."
All things considered, Coach Eaton called those goals huge.
"It gave us some confidence, and I think it took a little bit of the wind out of Nazareth and shocked them a little bit," Eaton said. "Ziggy (Lewis) always does such a good job with the Nazareth program that until that final horn goes, you don't feel like anything's in the bag."
Natalie Stannard added a third goal on an assist by Flynn with 12:21 left in the second half.
"It deflected off somebody and there I was with the header," Standard said. "It was awesome. If it had been 2-1, it would have been more like, we've got to go, we've got to go, but we had that extra goal so it was more like, settle down, take your time."
Then, with 3:55 left in the game, Abigail James scored for the Blue Eagles.
"I feel like there was more stress and they were more rushed to get the ball in," said Freedom defender Kiara "KK" James. "We decided to change up how we defend, like drop back and watch any of the inside girls."
The Patriot victory was the first district championship for the program.
"A lot of firsts, yes, and it's for the girls. I'm so happy for the girls. They worked so hard, I just want to keep it going for them," said Eaton. "We changed our style a little bit about two-thirds of the way through the season, and we just keep telling them keep doing what we're doing, go out and have fun, and whatever we get, we get. It's kind of a fairy tale and it's a nice one."