Zoning map remains same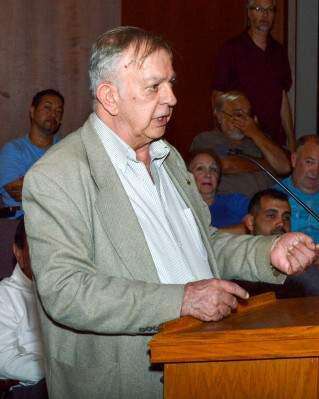 Published October 07. 2019 12:00AM
With trepidation on the part of some members, city council voted 4-3 Oct. 1 to kill a hoped-for revision of the zoning map.
The bill would have paved the way for resident and architect Dennis Connell to build a five-story, 72-unit apartment building at 11-15 West Garrison St. that would have an underground garage.
Councilman Bryan Callahan told the crowd, "Don't shoot me," as he assured the energized residents who oppose the plan that his "yes" vote did not mean that he would continue to support the measure. He promised to walk through the neighborhood over the next two weeks and meet with residents to hear about their concerns. He said he lives near the West Garrison Street neighborhood.
Callahan explained the quixotic nature of Lauren Miller's and the other objectors' quest to knock down the proposed project.
He said that since Connell owns the lots, two of which have houses that are in the RT or High-Density Residential District, that Connell wanted to have them restored to their pre-2005 designation of CB or Central Business District. This would have allowed developer Connell to put his five-story apartment building on the contiguous lots that he currently owns.
The apparent success of the neighbors and tenants in stopping the rezoning will not stop Connell from slightly modifying his plan and reconfiguring the building to have up to 12 stories on the CB zoned lots.
Increased stories, explained Callahan, could be required to make up the lost revenue expected from units that would have been on his two lots, whose planned use has now been denied to Connell.
Ironically, Connell could still knock down his two houses in the RT zoning district and use the cleared space for other purposes, to include trash Dumpsters, or a driveway access to his planned underground 74-space parking garage.
Connell did not return a call to the Press to clarify his future plans.
The large group of residents who attended the meeting, for the most part, made it clear that change is not welcome, though some bristled at the suggestion that they wanted to exclude future residents.
Resident Lauren Miller, who spoke emotionally and effectively at the previous meeting during a public hearing on the matter, was back. This time she was poised and prepared with visual aids and vegetables from a community garden as an offering to council.
Miller emphasized the sense of community on West Garrison Street, a sense of community that she and several other residents feel will be disrupted by Connell's plan to raze two homes that he owns and, in their stead, build an apartment building.
Miller rents one of the two homes owned by Connell, a home that would be razed if the project goes forward.
"Do the lives on this street matter? Are we going to push them [the community] out?" asked Miller.
Several other residents spoke supporting Miller and generally expressing a "not-in-my-backyard" view of the proposed apartment building.
Connell, the owner proposing the apartment took his turn speaking to council, but directed his comments to the largely hostile audience.
"I created this neighborhood," said Connell. "I'm not the Devil incarnate. I'm asking to return the zoning to central business district, which is what it was until 2005."
Connell's attorney, who refused to confirm his name or to make a further statement, told the crowd that Connell intends to live in the planned apartment and be part of the community.
John Rothschild said he thinks this is a case of spot zoning.
City Councilman Adam Waldron opined that the "plan is positive." He said the plan would "bring new friends and neighbors to your community."
"I can't imagine harming the neighborhood," said Councilwoman Dr. Paige Van Wirt. "I will not support [the plan]."
Councilman William Reynolds said, "I bristle when I hear the phrase "commercial intrusion. We live in a city."
However, Reynolds said he would vote "no" on the issue.
In other business, Bethlehem attorney James Holzinger, representing the property owners, presented plans to build six twin homes on Blake Street. He asked that the zoning map be changed from RS (Single Family Residential) to RG (Medium Density Residential) for several lots.
Council members also approved, at a first reading, a $6 million bond to re-finance municipal debt. Final vote on the bond issue is set for Oct. 15 at the next regular city council meeting.