Movie Review: Linda Ronstadt heard again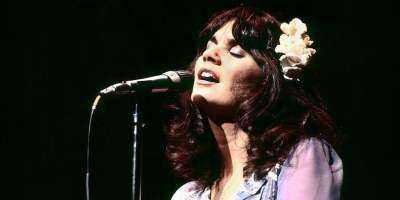 Published October 07. 2019 12:00AM
Everybody has a Linda in their life.
For many of a certain age, there was Linda Ronstadt, whose voice soared across the Top 40 radio airwaves as lead singer for The Stone Ponys' "Different Drum," a song written by Mike Nesmith of The Monkees, that went to No. 13 on the Billboard Hot 100 chart in 1967.
The ironically-titled documentary film, "Linda Ronstadt: The Sound of My Voice," tells the story behind Ronstadt's recording of The Stone Ponys' "Different Drum" and many more songs in a career that included the hits, "You're No Good," "When Will I Be Loved," "It's So Easy," "Poor, Poor Pitiful Me" and "Blue Bayou," propelling her to become the first rock era singer to headline and sell out arena concerts, only to be silenced by Parkinson's disease, diagnosed in 2012, that rendered her unable to sing as before. Her last concert was in 2009.
The Tucson, Ariz., native reads from her 2013 autobiography, "Simple Dreams," for a good portion of the documentary, which is a must-see for fans of Ronstadt, pop music and documentary films. In 2019, a year dominated by excellent documentary films, "Linda Ronstadt: The Sound of My Voice," deserves a documentary film Oscar nomination.
The film has lots of exceptional concert footage of Ronstadt singing in her wonderful full-throated voice. Ronstadt, whether wearing a custom-made Cub Scouts uniform, or in hip-hugger jeans and off-the shoulder top cinched at the waist to bare her midriff, had quite a stage presence, including when I was among the estimated 10,000 who saw her in concert, Aug. 25, 1977, at the Allentown Fairgrounds Grandstand.
The documentary has insightful interviews with musicians, music producers and family members, including Ronstadt record producer Peter Asher; singer-songwriter Jackson Browne; musician Ry Cooder; journalist-film-maker Cameron Crowe; journalist Robert Hilburn; record label founder David Geffen; Don Henley, who was in her backup band with other future Eagles; actor Kevin Kline, with whom Ronstadt starred on Broadway in a Tony Award-nominated role in Gilbert & Sullivan's operetta, "The Pirates of Penzance" (also a 1983 theatrical release); singer-musician Bonnie Raitt; singers-musicians Emmylou Harris and Dolly Parton, with whom she recorded the album, "Trio"; Aaron Neville, with whom she dueted on the No. 1 hit, "Don't Know Much" (1989), and singer-songwriter J.D. Souther, whom she dated.
Shown are images from family photo album photos, which ties into an understanding of the influence of music-making and singing in her household, especially by that of her father.
The film is directed by Rob Epstein and Jeffrey Friedman (co-directors, "The Celluloid Closet," 1995; "Howl," 2010; "Paragraph 175," 2000; "The Celluloid Closet," 1995; "Common Threads: Stories From the Quilt," 1989; "The Times of Harvey Milk," 1984, the latter receiving a feature documentary Oscar).
The Linda Ronstadt documentary film is a worthwhile companion piece to the documentary films, "Echo in the Canyon" (2018) and "David Crosby: Remember My Name" (2019), for its exploration of the mid- to late-1960s and early- to mid-1970s Los Angeles folk-rock music scene.
"Linda Ronstadt: The Sound of My Voice" is an important re-evaluation of Ronstadt as a trailblazer for female rock singers and as a country-rock and pop music trendsetter. Ronstadt was a successful genre-shifter, bringing Baby Boomers to appreciate the Great American Songbook with her album of standards, "What's New," produced by Nelson Riddle, longtime Frank Sinatra producer. She returned to her Mexican roots to record songs sung in Spanish.
If the 2019 Provincetown International Film Festival, where the film received the audience award, is any indication, "Linda Ronstadt: The Sound of My Voice" may be an Oscar nomination voters' favorite, too.
"Linda Ronstadt: The Sound of My Voice," MPAA rated PG-13 (Parents Strongly Cautioned Some material may be inappropriate for children under 13. Parents are urged to be cautious. Some material may be inappropriate for pre-teenagers.) for brief strong language and drug material; Genre: Documentary, Biography, Music; Run time: 1 hr., 35 mins. Released by CNN Films.
Credit Readers Anonymous: "Linda Ronstadt: The Sound of My Voice" is chockful of Linda Ronstadt performance footage.
Box Office, Oct. 4-6: "The Joker," starring Joaquin Phoenix in the title role in the DC Comics-derived origin film story, opened at No. 1 with $93.5 million, the largest domestic box-office opening ever, pushing "Abominable" down one place from its one-week No. 1 perch to No. 2, $12 million, $37.8 million, two weeks.
3. "Downton Abbey" dropped one place, $8 million, $73.6 million, three weeks. 4. "Hustlers" dropped one place, $6.3 million, $91.3 million, four weeks. 5. "It Chapter Two" dropped one place, $5.3 million, $202.2 million, five weeks. 6. "Ad Astra" dropped one place, $4.5 million, $43.6 million, three weeks. 7. "Judy" stayed in place, $4.4 million, $8.9 million, two weeks. 8. "Rambo: Last Blood" dropped two places, $3.5 million, $39.8 million, three weeks. 9. "War," $1.5 million, weekend; $2 million, one week since Oct. 2 opening. 10. Good Boys" dropped two places, $900,000, $82 million, eight weeks.
Unreel, Oct. 11:
"Gemini Man," PG-13: Ang Lee directs Will Smith, Mary Elizabeth Winstead, Clive Owen and Benedict Wong in the Science-Fiction Thriller. A hitman battles a younger clone of himself.
'The Addams Family," PG: Greg Tiernan and Conrad Vernon direct the voice talents of Oscar Isaac, Charlize Theron, Chloë Grace Moretz and Finn Wolfhard in the Animation Comedy feature film based on Charles Addams' cartoons about a spooky family.
Three Popcorn Boxes out of Five Popcorn Boxes