Crampsie Smith joins council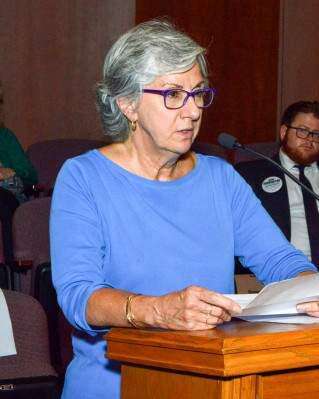 Published September 10. 2019 12:00AM
Judge Stephen G. Baratta swore in Grace Crampsie Smith as a member of the Bethlehem City Council Sept. 3. A large group of supporters attended, as did her daughter, Bridget Smith.
She immediately took her seat, which was vacated when Shawn M. Martel resigned.
Peter J. Schneck is now on the Zoning Hearing Board (ZHB), after a revised list of nominees for the board was approved by council with a unanimous vote. At the last meeting, Mayor Robert Donchez had withdrawn his nominee list. Donchez, after surveying the council members, said his original pick didn't have enough votes for confirmation. Council also confirmed other mayoral appointees: Mary-Frances Stone to the ZHB; Peter John Mayes, Jane Persa and Steven Fernstrom, all to the Recreation Board.
During public comment, Ann Gastinger urged council to "proceed with the process to ban single-use plastics in Bethlehem. It will mean taking on the fossil fuel industry."
Gastinger called such a challenge "truly a David and Goliath situation."
In June of this year, Governor Tom Wolf signed legislation that blocks municipalities from banning or taxing plastic bags for at least one year. The measure was attached to a budget-related bill and was sponsored by Senate Majority Leader Jake Corman, a Republican, who reportedly said he wanted the provision because his district includes a plastics manufacturer and a township was considering imposing a fee on plastic bags.
Stephen Antalics spoke briefly, saying he was "deeply embarrassed" at the conduct of the city council at the last meeting when Councilman Bryan Callahan spoke directly to another councilmember in a personally disparaging manner during a lengthy speech at the end of the meeting.
"What transpired should not have happened," said Antalics.
He said council owes the public an apology and that it should adopt two suggestions: have "taste" – not be "tasteless" and "consider limiting how long council persons can speak.
Later, at the close of the meeting, Callahan again took the floor and began to defend his remarks at the previous meeting. "I do think debate and open discussion [are important]," said Callahan. "Other members have addressed individuals," he added, and then played recordings of the previous meeting, which he said showed members of city council addressing each other directly.
"We are all breaking Robert's Rules, but I felt like I was the only one being called out on them," he said.
"I want the rules to apply to everyone," said Callahan.
He said he would later apologize to a member for the comments he had made at the last meeting.
Council President Adam Waldron said, "I will try to enforce the rules."