Golf season well under way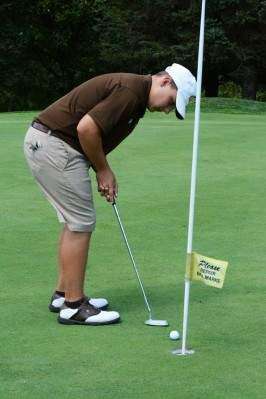 Published September 04. 2019 12:00AM
Unlike some other seasons, Bethlehem Catholic's Tim McGorry is having fun.
The veteran golf coach is in the midst of a season in which expectations aren't too high with only eight players on his roster.
Entering this week, his young squad was battling through a 1-4 season, but McGorry has been seeing the big picture.
"We have a lot of guys who are out there on a team for the first time, and they are keeping with it.
"There were some years when we were really deep, and it sometimes wasn't that much fun. But we're learning and it has been fun to watch. They are getting better and I am really pleased."
McGorry cited the improved overall team play overall as his team began the year with a 549 team score in their opening match and one of their recent scores was 470.
He has liked what he has seen from first-year players senior A.J. Aach and sophomore Even Druckenmiller.
"I can see the difference in them," said McGorry about the duo. "I told AJ that I wished he would have been with me as a freshman. He really could have progressed with us.
"Evan (Druckenmiller) can develop into a player who is shooting in the high 80s as he gets older."
He also has been impressed with exchange student Anna Heiming, who has steadily adjusted along the way.
"She knows how to play and she has skills," said McGorry about Heiming. "She has shot in the low 90s and can be even a better player for us."
Despite the final outcome, McGorry will cherish the moments.
"It's just one of those years, but it has been fun," he said. "The kids are great, and it has been exciting."
On the other end of the spectrum. Liberty head coach Steve Bradley sees his team in hunt for the East Penn Conference (EPC). Beginning this week, the Hurricanes were 5-1.
After an opening match loss to Emmaus, Liberty has been on a smooth course.
"We didn't have a good first match," stated Bradley. "They (Emmaus) are a very good team. We could see them again in the league tournament.
"But I would still put my kids up against any team."
Freshmen Matt and Mark Vital have been pleasant surprises since the start.
"Matt (Vital) has been playing a lot better," said Bradley. "Mike (Vital) has been in the 70s every match except for the first day.
"Both of them have hit the ball long and straight and really have their whole games together."
Fellow freshman Jimmy Barker has also reached a comfort zone.
"He (Barker) has been playing well," said Bradley. "He has developed into a leader on this team. He has been very consistent for us and will help down the stretch."
Senior Joey Altemose continues to be the anchor. Altemose recently won the Owen McCall tournament for the second time in his career with a par 71.
Bradley hopes Altemose can set the pace the remaining few weeks of the regular season.
"Joey (Altemose) just shot a 67," added Bradley. "He has been hitting them well all year. But he will have to keep playing well against the tougher competition. We have Nazareth coming up and it will be a test for all of them."