Four Tigers help LV reach title game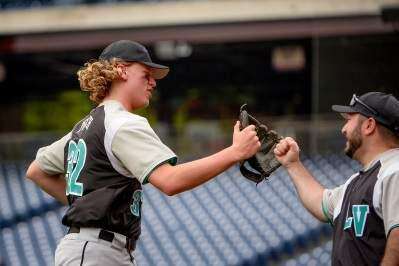 Published June 20. 2019 12:00AM
They were the Carpenter Cup's comeback kids.
Lehigh Valley's late-game heroics had been commonplace at the prestigious tournament.
Down a run entering the final frames in each of their past two games, the squad had come up clutch to win both and reach title game.
And there was a belief the LV squad would do it again Tuesday at Citizen's Bank Park.
But it was Burlington County (NJ) that broke open a tie game with two runs in the bottom of the eighth inning to claim the Carpenter Cup Classic championship with a 4-2 win over Lehigh Valley.
"We just never quit," said Lehigh Valley head coach Ted Plessl. "Our backs were against the wall coming into the ninth, but like they said, we've been here before Let's do it again. Unfortunately, the magic ran out for us today."
Elijah Dickerson (2-for-2) roped a leadoff double in the bottom of the eighth inning to kickstart Burlington's rally. Joseph Dalsey bunted Dickerson to third, and Jedler Hernandez's double scored Dickerson to put Burlington ahead 3-2 lead.
A Cade Hunter double to the deepest part of the park scored Hernandez and made it 4-2.
"It was a hell of an experience," said Lehigh Valley's Dallas Greenzweig, a Pleasant Valley junior who got the start at catcher. "This is a hell of a team. We had a great tournament, had a lot of fun. It just didn't come out the way we wanted. But next year we're going to come out and win."
Lehigh Valley showed its grit throughout the tournament.
The squad dug out of a 5-1 hole – and outlasted a brief rain delay – against Delaware South in semis, taking the lead in the eighth inning when Northwestern's Derek Holmes delivered a go-ahead two-strike, two-out, two-run single in a 7-6 victory.
It was a familiar scene in the quarters, when LV scored twice in the top of the ninth to edge Berks County 3-2 to reach the semis, a rally keyed by the Tigers' Nick Henry.
The stage was set for another rally against Burlington.
Ben Stokes (Stroudsburg) delivered an RBI double to score Brandon Robinson (Emmaus) and tie the game at 2-2 with one out in the top of the eighth. Stokes had the go-ahead sacrifice fly in LV's quarterfinal win.
Rafe Perich (Northwestern) collected his second hit of the game, moving Stokes to third and brining Holmes to the plate.
But a double play ended the threat and kept the game knotted at 2-2. Lehigh Valley went down in order in the top of the ninth.
Holmes, who helped the Tigers reach the Colonial League and District 11 Class 4A final, and earn a berth in the state tournament, put the setback in perspective.
"It was great," he said standing in the dugout afterward. "For our team to come together like this, the way we've just been able to bond over the last couple days. To be able to make a run like this, we fell one short, but just to be able to play in Citizen's Bank Park and be here with these guys was awesome.
"And to be able to play with some of the guys from Northwestern one last time, just being able to play with those guys, and play in this kind of atmosphere, is just a great way to end my career."
The game was scoreless until the fourth inning. Blake Barthol (Parkland) opened the frame with a leadoff double to left field. A Brian Horoshko (Allentown Central Catholic) single scored Barthol to put LV in front 1-0.
Burlington had an answer, a loud one at that, in the bottom of the inning. It started with Lorenzo Repack's deep one-out triple that hit off the right field wall. After a fly out by Brian McMonagle failed to do the job, Joey Moore (2-for2) delivered a two-out double to score Repack and tie the game at 1-1.
Robby Barrientos followed with a double that plated Moore, giving Burlington County 2-1 lead.
Moore opened the bottom of the second with a single, and Connor Coolahan started the third with a hit. But Burlington couldn't cash in, as LV starter Braden Waller (Emmaus) worked out of trouble each time. The sophomore went three innings, striking out three and surrendering just the two hits.
Plessl praised the group's ability to play as a team throughout the event.
"Anytime you can bring 31 different high schools together that we have the rights to get ball players from, and 17 different high schools represented, that's just fabulous," said Plessl. "It's really neat to be able to bring all those kids together on one team.
"By the time you get to this game, they don't refer to themselves as Liberty or Easton or Parkland. All of a sudden, all you're hearing out of them is 'Lehigh Valley.'"
The Lehigh Valley managed just six hits in the title game and Perich had two of them.
Waller got the start and went three scoreless innings, allowing just two hits while striking out three and walking none.
Welch pitched 2 1/3 innings in the title game. The Tiger sophomore allowed just two hits while striking out two and walking one.
Parkland's Koby Staivecki pitched one scoreless inning and allowed one hit. He struck out one batter and walked one.
The win gave Burlington its fourth Carpenter Cup title, third-best among active franchises in the tournament. Lehigh Valley's last title came in 2011.
In the semifinal win, Holmes, who will play at Moravian College next season, delivered the game-winning two-run single in the eighth inning that helped lift Lehigh Valley to a 7-6 victory over Delaware South Monday afternoon in the Carpenter Cup semifinals. Lehigh Valley was slated to play for this year's title Tuesday morning at Citizen's Bank Park against Burlington County (NJ).
After sitting through a 40-minute rain delay in Monday's semifinal, Delaware South broke a 5-5 tie with a run in the bottom of the seventh inning and another rain delay could have caused the game to be called official.
"Delaware South was playing for one run with that idea in mind," Plessl said. "We came up in the top of the eighth and we were not to be denied. On a 1-2 pitch, after fouling off I think two balls, Derek Holmes gets a single to center for two runs and we go up 7-6.
Holmes' heroics that took the limelight, but there were plenty of others that played their part through the game.
After trailing 5-1 through four innings, Braden Breithaupt scored on a passed ball, Robinson had a two-run single and Zack Transue had an RBI-single in a four-run fifth inning.
Holmes recorded two singles and two RBIs on the night.
Northwestern's Henry was right back at it Monday afternoon after receiving a last-minute move from alternate to having a spot on the roster on Saturday. Henry recorded a single and a run scored in the victory.
Staivecki pitched three innings in the game and allowed just one hit and no runs. Waller followed him, pitching the final three innings and allowing three hits and one run to earn the win.
The Hornets' Robinson went 2-for-3 with two runs scored and two RBIs for LV. Parkland's Jeremy Piatkiewicz walked in his only at bat.
Perich picked up a walk in three at bats.
Lehigh Valley beat Burlington Country 7-2 to win the 2011 Carpenter Cup.
This year's Lehigh Valley team got to the semifinals by taking out Suburban One League American/Continental 8-4 in the opening game last Wednesday (June 12) then beat Berks County 3-2 on Saturday.
In the first two games, Parkland's Barthol went 3-for-5 with three runs scored. Piatkiewicz was 1-for-2 in his first two games.
Northwestern's Henry, the team's alternate who got called up the day before the tournament started, went 1-for-2 with a run scored and an RBI in the first two games. Tiger teammate Welch pitched 2 1/3 innings in the first two games and allowed four hits and no runs.
Holmes went 1-for-2 in the LV's two opening games.
Salisbury's Quinn Warmkessel was 2-for-5 in the team's first two games, including a triple, one run scored and one RBI.
Waller pitched three innings in last week and allowed no runs on one hit.
Robinson was 2-for-5 over the first two games.
Holmes also came through with a key two-out, two-run double in the eighth inning of an 8-4 opening round win over Suburban One American Continental.
Leading 6-4 with two outs and a pair in scoring position, Holmes came through with his double to plate two more runs and give Lehigh Valley more breathing room.