45th Boutique prep work begins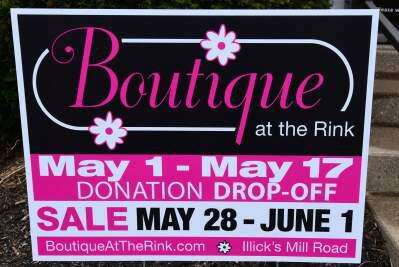 Published April 22. 2019 12:00AM
Preparations are underway for the 45th annual Boutique at the Rink cancer support fundraiser as volunteer orientations have begun for the 2019 event, which will be held at the Earl E. Schaffer Skating Rink on Illick's Mill Road from May 28 through June 1.
Donations of clean, new and gently used vintage and fine men's, ladies and children's clothing and accessories, shoes, lingerie, jewelry, toys, tools, antiques, small appliances, linens, housewares, collectibles and sporting goods will be accepted at the Rink beginning May 1 and ending May 17. Drop-off hours are Mondays and Wednesdays from 9 a.m. until 7 p.m., and on Tuesdays, Thursdays, Fridays and Saturdays from 9 a.m. until 1 p.m..
Sale days will include May 28 from 4 p.m. until 9 p.m. on Premiere Night ($10.00 entry donation), full price day on May 29 from 10 a.m. until 8 PM, half price days on May 30 and 31 from 10 a.m. until 8 p.m., and bag day on June 1 from 8 a.m. until 2 p.m.
Volunteers are needed and those interested should visit www.Boutiqueattherink.com for additional information.
Proceeds benefit the Cancer Support Community, St. Luke's Hospice and St. Luke's Cancer Center.