Niesenbaum reaches regionals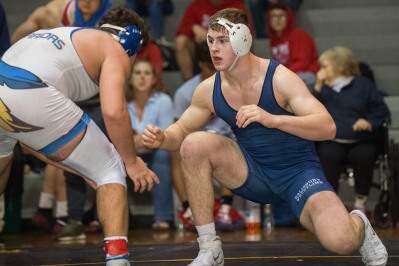 Published February 27. 2019 11:00PM
Jonah Niesenbaum stood outside Liberty's Memorial Gymnasium, peering through the doorway to get a glimpse of the action inside.
As the crowd noise swelled, so did the Salisbury senior's interest.
Clearly, it wasn't where Niesenbaum envisioned himself on the second night of District 11 Wrestling Tournament.
Niesenbaum pictured himself alongside his peers, competing for a title. As the No. 2 seed at 220 pounds, a third-place finish in the Class 2A bracket wasn't the outcome he had hoped for.
But it might have been the one he needed.
"This weekend was kind of a wakeup call, which I think is good," said Niesenbaum. "It's better to have it at districts than at regionals and states. So I'm ready to just get back on that horse, and keep moving along.
"The outcome is not what I would have liked. I came here for gold. But at the end of the day, my ultimate goal is (taking) the next step. So I'm moving on, and I have a shot to get to the top of the podium at regionals; and then on top of that, it's that state medal that I'm really looking for."
Falcons' coach Juan Garcia echoed Niesenbaum's sentiment.
"Obviously, the big thing is to move on to next week," Garcia said of the Southeast Regional Tournament. "Obviously, we wanted to be in the finals, but I'd rather take a loss now than later on at regionals or states. Hopefully that builds up some fire for him and gets him ready for the rest of the postseason."
Niesenbaum's physical tools are undeniable. His mental strength is even more striking.
A disappointing 7-2 setback to No. 3 seed Kolby Flank of Wilson in the semis could have been deflating.
But Niesenbaum rebounded with a 12-5 decision over Mahanoy's Michael Ansbach, the No. 4 seed, in the consolation round, before pinning Schuylkill Haven's Mason Miller (the fifth seed) in 1:36 to place third.
"I think this morning (in the semis), he just wasn't himself," said Garcia. "He just wasn't getting to his stuff, just didn't open up the way he normally has all season. We recorded it, he saw it, and it was like, 'All right, I got it.' There were just some little fixes he had to make.
"I think he knows he has it. It's not like he lost it, and now there's nothing he can do about it. He saw just in those last two matches that's there. He just didn't open up when he needed to against (Flank)."
Niesenbaum's ability to adapt is no surprise. Only wrestling since his sophomore year of high school, he has an aptitude for making huge strides each time he takes the mat.
"I'm getting better every single day, and I feel like the one thing that I have is a really fast learning curve; I'm able to adapt quickly," said Niesenbaum.
He was able to reset and refocus before securing a third-place finish at districts for the second straight year, and punching his ticket to regionals.
"I expected that I would win that," he said. "But there were a couple things in my semifinal match that weren't quite going well. Before my third-place match, we got lunch and I just wanted to reset because I was getting tunnel vision in my first match, and I wanted to go in with an open mind, work the stuff I know, and just be crisp. And everything was good. I didn't really have any complaints about the way I wrestled.
"The third-place match, that's obviously not the bout that I wanted to be in. But I think I was able to get my mind right. If I can wrestle like that, and the way I have been all season – and better – through regionals and states, I'm in good position."
Though far from a seasoned veteran, Niesenbaum noted his postseason experience from a year ago has paid dividends.
"It definitely helps with the mental game," he said. "I just remember being here last year, and it just seemed so big. Now I come here, and it seems pretty small.
"It's still extremely exciting. I love it. But it's familiar, and it's a little more comfortable. And I feel the same way with regionals – it's just another tournament. For me, the fact that I came in third here doesn't mean I'm not going to get first at regionals, or at states."
Niesenbaum placed fifth at regionals a year ago to qualify for states. Garcia has no doubt Niesenbaum can improve on both performances this season.
"His mindset is awesome," the coach said. "He knows what he needs to fix, and we go and work on it, and he improves it. I don't have any worries for him to make it to states, obviously. And I think at states he's gonna surprise people.
"Obviously, a state medal is our goal, and the higher the better. He has more aspirations after that to wrestle in college. A state medal is what we're aiming for."
Niesenbaum's rapid ascent has seen him take the area by storm, and helped him earn the opportunity to continue his wrestling career at Duke University next season.
While his future is bright, Niesenbaum is simply trying to live in the moment, as long as it lasts – and as far as it takes him.
"I just want to put a good cap on my high school career, and (get a) state medal for sure, that's a big goal of mine," said Niesenbaum. "I'm excited to move on. Part of me is a little sad that it's my last year. It seemed like it went so quick, especially since I just started (wrestling) my sophomore year. But I just really love the wrestling community. Being here feels so special. Being here with my coaches for the last time is a really great feeling.
"I'm just gonna soak it up. You hear some people say, 'Oh, I just want to get to states, or I just want to get it done.' I want to soak this all up, because I know it's my last time. I just really want to enjoy the ride, and know that when I'm done, I can look back and say, 'Goodbye.'"
As a team, Salisbury had seven wrestlers entered in this year's district tournament, the largest contingent for the team in several years.
Freshman Carver Moyer (103) won his opening bout at districts, defeating Northwestern's Eli Dellicker by an 8-0 major decision. After falling to No. 2 seed Jaryn Hartranft (Catasauqua) in the quarterfinals, Moyer won a consolation bout over Tyler Slotterback (No. Schuylkill) before getting pinned by Saucon Valley's Cael Markle. Moyer finishes his season at 20-9.
Junior Devon Alder (145) also opened the tournament with a win. He pinned Tri Valley's Jacob Strohecker in 3:44 before falling to top seed and eventual champ Andrew Cerniglia of Notre Dame (Green Pond). Alder lost his first consolation bout to Pine Grove's Chris Charles to end his season at 13-12.
Falcon Freshman Nathaniel Natal (138) went 0-2 at districts. He was pinned by eventual champ Marckis Brandford (Wilson) in his opening bout then lost to Williams Valley's Chase Esterline by technical fall in the first round of consolations. Natal ends his season at 6-19.
Freshman Ben Krauss (160) was pinned in his opening bout by Panther Valley's Eric Moyer. He dropped his first consolation match to seventh-place finisher Khalid Holland of Tamaqua. Krauss ends his season at 10-16.
Salisbury freshman Damian Ramos (132) competed in districts but lost in a preliminary bout.
Freshman Ashton Thomas (195) was also part of the district tournament. He forfeited his only bout.