Burst pipe forces evacuation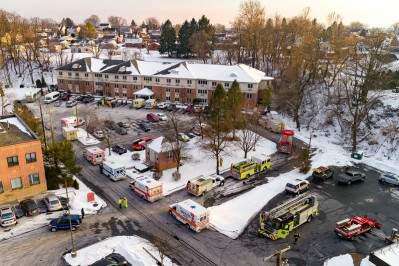 Published February 05. 2019 11:00PM
Approximately 90 residents of Sacred Heart Senior Living by the Creek, 602 E. 21st St., Northampton, were forced to evacuate their residences and leave the grounds Feb. 2 after a burst pipe flooded one of the buildings' floors.
"I got my first call around 3 o'clock," Northampton Borough Manager LeRoy Brobst said of hearing about the incident, classified by emergency responders as a mass casualty incident.
Brobst said he was kept apprised of the situation by officials who were already on the scene.
According to reports, a pipe from the sprinkler system burst. The flooding on an upper floor affected the rooms directly beneath it.
Many families rushed to the facility to meet their loved ones and take them into their homes, Brobst said.
"Those who were not were taken to Northampton [Banquet & Event] Center," he added.
That night, the center, 1601 Laubach Ave., was hosting a teenage snowball dance with close to 500 students in attendance. Brobst said officials worked to keep the Sacred Heart residents calm during the process of escorting them into a room and alleviating any confusion the large crowd might have caused.
Redner's Warehouse Market, Held Drive, Northampton, donated cots and meals for the residents before they were transported elsewhere for the evening.
Some residents were taken to Sacred Heart Senior Living at Saucon Creek, Center Valley. Others went to stay with family members. Whitehall Manor, Sixth Street in Whitehall, invited residents to stay at its facility as well.
According to reports, it could a take up to two weeks to make repairs.
Brobst said his wife was at Northampton Banquet & Event Center that night, assisting with the transportation process.
"My wife didn't get home until 12 a.m.," he said. "That's around when they got the last group out."
Northampton Regional EMS posted a note of appreciation on Facebook the following day: "Thank you! Those two words are not enough for all the help we received for our community yesterday. Cheers to Northampton County EMA and local EMA, Northampton Fire Department, Northampton Fire Police, Allen Township Fire, East Allen Fire, North Catasauqua Fire, Whitehall Fire, Lehigh Township Fire, Northern Valley EMS, Bethlehem City EMS, Bethlehem Township EMS, Cetronia EMS, Hanover EMS, East Allen EMS, Lehighton EMS, Lanta Bus company, Northampton [Banquet & Event] Center and our NREMS staff for busting it in the freezing cold! Much appreciated!"