Falcons pull out win over Lions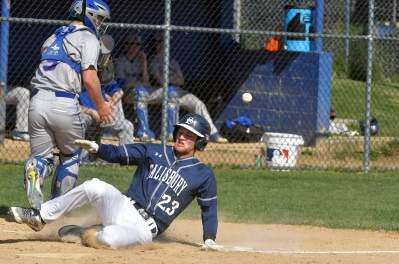 Published May 10. 2018 12:00AM
While the rest of the Salisbury baseball players were celebrating in the dugout and starting to rake the infield dirt, Ryan Miller took a jog through left field and into the woods behind the fence.
Moments earlier he had connected on a walk-off homerun that completed Salisbury's comeback bid to keep its district playoff hopes alive. He wanted that ball back as a souvenir.
Tied at 4-4 going into the bottom of the eighth inning, Miller got enough of a fastball to drive it over the left field fence and propel Salisbury to a 5-4 victory over Moravian Academy (1-15 overall; 0-16 in Colonial League) on Saturday afternoon. The Falcons (10-8; 9-8) trailed 3-0 after five innings before the comeback got underway.
"I knew it had a chance," Miller said. "It felt really good off the bat. I realized that it was a slower pitcher, so I was telling myself to just stay back and hit it through the infield and not just pop anything up. Once I got to 3-2, I was just trying to get on base any way possible."
Miller's walk-off bomb came after Taylor Linn flied out to center field. Thoughts of letting another game get away in extra innings resurfaced after Salisbury blew a 6-2 lead against Northwestern a day before. The Falcons led 6-2 going into the seventh inning before falling short to the Tigers, 10-7 in 10 innings.
Despite holding a 4-3 lead going into the seventh and seeing it disappear when Moravian pushed a run home, there was still hope.
"After we lost an extra-inning game [Friday], and going out with the lead in the seventh inning again today and giving up the lead, to come back to win was big," Salisbury head coach Mike Pochron said. "It was a nice win. We had some new guys step up, so that was really big."
"We couldn't field the ball [against Northwestern]. We started off by hitting a guy and walking a guy. Then we didn't catch a ground ball or two. The next thing you know, they scored five runs. You can't mess around with them. They can score."
Moravia, which entered the game winless in the Colonial League, seemed on its way to its first victory when it took a 3-0 lead in the fifth inning. An infield throwing error for Salisbury was a big factor in a couple of those runs. Meanwhile, the Falcons only mustered two hits through five innings.
But Salisbury turned the page offensively in the sixth inning. After Hayden Kuhns led off by reaching base on a Lion error, Ernesto Fermin's sacrifice fly brought the Falcons' first run home. A groundout by Linn in the next at-bat made it two outs with no runners on, seemingly ending the quick threat.
But the offense didn't throw in the towel just yet. Miller grinded out an at-bat for a walk, Quinn Warmkessel singled down the left field line, and Mark Wilson was hit by a pitch to load the bases. In the next at-bat, Jack Repyneck blasted a three-run double to put the hosts ahead, 4-3.
"That moment was a key moment for us because that's when we had more hope of winning the game," Miller said of his rally-starting walk. "It just takes one little thing to change a whole baseball game.
"We couldn't hit the first pitcher very well. We'd get a pop up here and there. They got that little rally and we got a little shaken up. When we scored some runs, that sort of sparked some energy in the dugout a little bit."
Moravian scored on a Falcon error in the top of the seventh inning to tie the game, 4-4, before Miller's heroics took center stage minutes later. Repyneck also came in to pitch in the seventh inning and picked up the win on the mound.
The Falcons followed that win with a 7-1 victory over Northern Lehigh Monday, which will earn the team a district playoff berth.
The Falcons close out the Colonial League season with Southern Lehigh on Wednesday for a 7 p.m. start. They have a nonleague game on Saturday against Allen to finish off the regular season.