Bethlehem's reaction to Charlottesville: Holding hands, prayer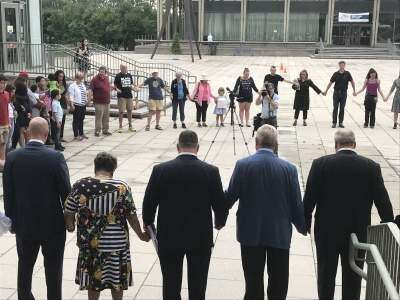 Published August 17. 2017 12:00AM
Over the weekend, as the 34th Musikfest came to an end, Bethlehem Police Chief Mark DiLuzio had just one word to describe it - "Great!" Over the 10-day festival, over 1.2 million people visited the Christmas City. Only 36 people were arrested, mostly for public drunkenness. But 309 miles away in Charlottesville, Va., a "Unite the Right" rally ended in tragedy. Three people are dead. Dozens more are injured. A president first said "both sides" are to blame, then blamed white supremacists and the KKK, and finally returned to saying that "both sides" are responsible.
How did Bethlehem respond?
By holding hands. By praying.
That's what happened yesterday at a 5 p.m. rally called by civil rights champion Esther Lee, who is president of Bethlehem's NAACP. Nearly 60 people attended. They included clergymen, Bethlehem City officials and the Sierra Club's Don Miles.
"We here in Bethlehem condemn acts of hatred and are deeply saddened by the loss of life," said Mayor Bob Donchez. "We need to show those who divide us that we will not be divided. Tonight we are one with Charlottesville and its citizens."
DiLuzio told attendees we have devolved into a nation of name callers. He said his father is probably "rolling over in his grave at the sight of American citizens giving a Nazi salute."
DiLuzio's father was a WWII veteran, one of the 43,000 allied soldiers who landed on Omaha Beach because he did not want Nazism to come to the United States. "Well, Dad, it isn't coming here." He said people throughout the nation are rising up to say, "We will not stand for or agree with your hatred and prejudice."
Speaking for the Sierra Club, Miles said white supremacists are not patriots, but "vile and unacceptable racists preaching hatred and division that stands in opposition to the values of equality and justice." He added, "Those who spew white supremacy feel empowered now when they see allies in the corridors of power."
The Rev. Anthony Pompa, dean and rector of Cathedral Church of the Nativity, said that, in the end, "it's all about love. If it's not about love, it's not about God."
Cordelia Miller, Bethlehem NAACP vice president, said her family came to this country in the bottom of slave ships, "chained together like animals. Someone wants to tell me to go back to the good old days. What good old days?" Holding the American flag in her hand, she said, "This flags stands for something, or it should."
Esther Lee said Trump is the people's representative, and was puzzled that he did not immediately condemn the racism, saying, "I am very concerned about what he has not said."