Local harpist enchants community and beyond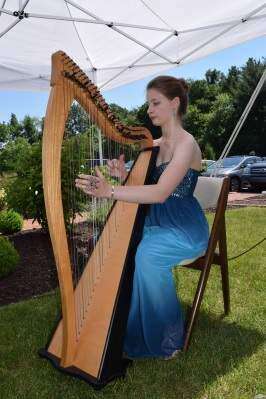 Published June 14. 2017 12:00AM
by Julia Fritz jfritz@tnonline.com
Madeline Rose Link, Maddie, to friends and family, is a humble 19-year-old woman who has accomplished many things before reaching her 20s.
She is a skilled harpist who has performed at various events including weddings, and she even performed a solo at Musikfest.
The only child of Steve and Kathy Link, Maddie is also legally blind.
"The genetic disease I have means I can't see in bright light," Link said. "Outside, I can't see at all.
"For a long time they thought it was Leber congenital amaurosis, or LCA. Usually it comes with some other disability, which I do not have. "So they don't know if I have it or not.
"The latest diagnosis I got was a cone dystrophy so the cells that control my ability to see in bright light and also to see color don't function properly.
"My eyes are healthy, so they think some protein isn't being processed correctly," she said.
This does not stop Link from living life to the fullest.
"I can't shut myself up and wait for something to happen that will make it better," Link said. "I have met a lot of great people through it [the disease]."
One of Link's greatest passions is playing the harp. Ironically, she discovered the instrument by chance.
"My best friend played the piano and her parents got her a digital keyboard and it had a harp setting and I was like 'Wow this is gorgeous, I want to play this instrument,' Link said. "I had never seen one. I never played one before. I just loved the sound."
The interest grew into learning how to play and eventually playing for almost 10 years.
"My mom did a little research and got in contact with McCarthy's Pub in Bethlehem that has live music and they had a harpist who does lessons so I worked with her for two years and then when she moved, I worked with the woman who took her place at McCarthy's until I graduated high school," Link said.
Though it seems like a challenge, Link doesn't see it that way.
"A lot of people say the harp is one of the most challenging instruments to play. I never really felt that way about it," she said.
Maddie learns from listening, not reading music.
"I specialize in traditional Celtic music, and the beauty of that is that a lot of it is up to the musician, how it's played," Link said. "It leaves a lot of creative license to the individual for how they want to play the song which is great for me cause once I memorize a melody I can do whatever I want with it.
"A lot of the songs I play are traditional melodies and then I do whatever I want with them."
Maddie began playing at events throughout the Lehigh Valley and at her high school, Allentown Central Catholic.
"A lot of it was word of mouth for a long time. As more people heard about it, my mom started a Facebook page," she said. "I played the Good Shepherd Rehab Hospital Gala for six years in a row.
"I've done a lot of stuff for schools in the diocese and the bishop. I had a solo show at Musikfest in 2012."
Link performed on June 11 at the Stephens Funeral Home Memorial Butterfly Release.
"They release one butterfly for every person who passed away and all their families come to release the butterflies," she said.
During the school year, Link attends the University of Notre Dame in Indiana and double majors in theology and history. She also sings in two different liturgical choirs.
Her plans for the future are bright.
"In the very long term, I would love to be a professor somewhere. I'd love to work with the Vatican at some point," she said.
Link has always been interested in different cultures and histories of the world.
"I think it's important to be aware of history because it has a tendency to repeat itself if people aren't cognizant of it," Link said.
Link is also making strides to help Notre Dame's campus become more accessible for the visually impaired.
"Notre Dame is a very pedestrian campus, so it's all sidewalks. It is difficult to get around because there are no landmarks, it's just this whole network of sidewalks," she said. "I'm working with the school of architecture to develop a 3-D printed map of campus. It's the first time a 3-D printer has been used to generate a map for the blind so it's really cool for the university and me to be involved in that.
"It's almost done. It's every building and sidewalk on campus so that will be a huge help for me once it's done," Link said.
Her Guide Dog, Snowbird, is often with her at events and also assists Link in getting around campus.
Link was matched with 6-year-old Snowbird, a St. Pierre (half Labrador and half Bernese Mountain Dog) thanks to the Mira Foundation.
"They're based up in Canada. They're the only program in the world to put dogs with kids under 17," Link said. "I was 14 when I got him and at the time I was about one of 20 kids in the U.S. to have a dog through their program."
Link lived in Quebec for a month before high school and worked with different dogs to find her perfect match.
"They had us work with a couple of dogs to see how the bond worked. I actually worked with his sister and we just did not click. The first dog I worked with was him [Snowbird]," she said.
"He's a great dog and loves people. He loves to work."
Other plans for the summer include studying abroad through her school.
"I'm going to Israel in July. It's three and a half weeks," she said. "Notre Dame owns a building outside of Jerusalem so we'll be there for around two weeks and then we go on a bus tour of the country and get to see a lot of the holy sites, like the Sea of Galilee.
"We're also taking a class called 'Two Peoples Three Religions' so it's about the political and religious atmosphere of the area."
Link will be performing 6:30-8:30 p.m. July 7 at Fox Optical and Gallery, 28 E. Third Street, Bethlehem, where her Celtic melodies are sure to be enchanting.