Struggling Slaters visit Salisbury Friday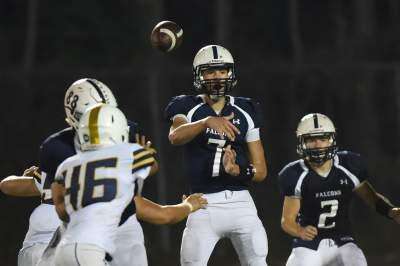 Published September 24. 2015 12:00AM
When it comes down to the end of the season, Salisbury might look back at having one of the toughest starts to 2015.
The Falcons weren't dealt any favors opening against Saucon Valley, a tri-champion in the Colonial League last year, in Week 1. Two weeks later they hosted a Notre Dame (Green Pond) squad that's also one of the league favorites.
While Salisbury did show signs of optimism and spurts of success in both games, both ended with tallies in the loss column.
Now, the Falcons (1-2) look to rebound from that deflating loss against Notre Dame when a struggling Bangor (0-3) team comes to town on Friday night. The Slaters haven't scored an offensive touchdown in three games and have scored just seven points in 12 quarters.
"They're obviously disappointed with the result Friday night [against Notre Dame]," said Falcon head coach Andy Cerco. "But after watching the film we looked at it and realized there were points in the game where if we do one or two things differently, maybe it's a closer game and maybe we're in the game.
"We have another opportunity this week to go out and prove ourselves what we're all about. That's the thing that we try to focus on, it's about us and not the opponent."
After being shut out in the first two weeks (27-0 against Catasauqua and 39-0 to Northwestern) Bangor finally broke through, although slightly, in its 40-7 loss to Palmerton last week with 75-yard interception return for a score.
Offensively, the Slaters rely heavily on running back Saivaughnn Vass. While he has just over 100 rushing yards in three games, he's been a steady contributer in the passing game as well. He caught six passes for 30 yards from quarterbacks Mike Meixell and Landon LaBar against Palmerton.
"He [Vass] is definitely a hard runner," Cerco said. "When they run inside zone he hits it hard. If he gets going downhill, he's definitely a talented running back. We need to be on our game defensively in order to stop him."
Jacob Fries saw much of the action at quarterback in the first two games, but Meixell and LaBar split time in Bangor's spread offense against the Blue Bombers. The two combined to throw 10-of-30 for 75 yards, but the Slaters don't want to get in an offensive shootout.
"From what the film shows, they're a spread offense," Cerco said. "They run inside and outside zone. They run some jet sweeps. They run a short passing game. They try and get deep a little bit.
"They haven't shown too much quarterback run. Their main thing is to get the ball to their running back and their slot guys."
Wideouts Brandon Scholato, John Raub and Eddie Young all were involved in Bangor's the passing game in Week 3.
Kickoff is 7 p.m. at Salisbury High School.