Kornfeind's Market introduces new craft beer selection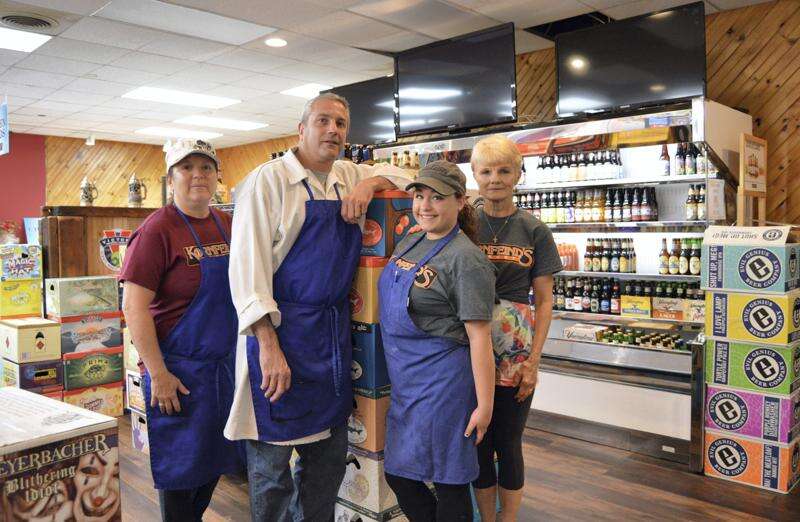 Published August 06. 2015 12:00AM
The owners of Kornfeind's Market, brothers Joe and Frank, have been keeping the family business tradition alive and are always looking for ways to continue attracting customers.
A specialized meat market, Kornfeind's has recently added a new selection to the menu: craft beers. The addition required renovations, which took place January through March.
"Because the state requires a separate section for beer, we had to relocate all of our items and coolers to give us this space to separate it," Joe said. "We created a pit, so we do our deli items in there; we wait on customers in there or wait on someone for beer. It became much more efficient."
The market, located on Route 329 in Egypt, also expanded on some meat and grocery items.
More than 100 craft beers are available for purchase at Kornfeind's Market. Customers may even try one of the four beers on tap. Some of the beer selections include Fegley's Knuckleball, Killians Irish Red and Dos Equis.
"We've always been a meat market, so we still stand on our custom cutting," Joe said.
Kornfeind's Market provides other services as well, Joe said, such as catering work and home deliveries.
And in the next few months, Joe is looking to do even more deliveries and provide online ordering.
"Originally my grandparents started a store in Northampton in 1928," Joe said. "And then my dad came (to Egypt) and built this store in 1968."
In 1986, Joe and Frank bought the Egypt store from their father.
Surviving as a small business isn't easy, Joe admits, but he believes Kornfeind's Market is doing a pretty good job at it. Keeping up with current trends, such as incorporating a beer selection, while still continuing its 87 years of meat specialties is one key aspect.
The natural and organic food movement is something that Joe is including in the market, too.
"A lot of our chickens are all natural; there are no additives," he said.
Joe said he and other employees often hear from customers that Kornfeind's Market is a "cool little store," which is where they got the slogan to put on their business T-shirts: "The coolest little store with the biggest hometown feel."
Kornfeind's Market has another location in Blandon, Berks County.