Sagl wins fourth D-11 gold medal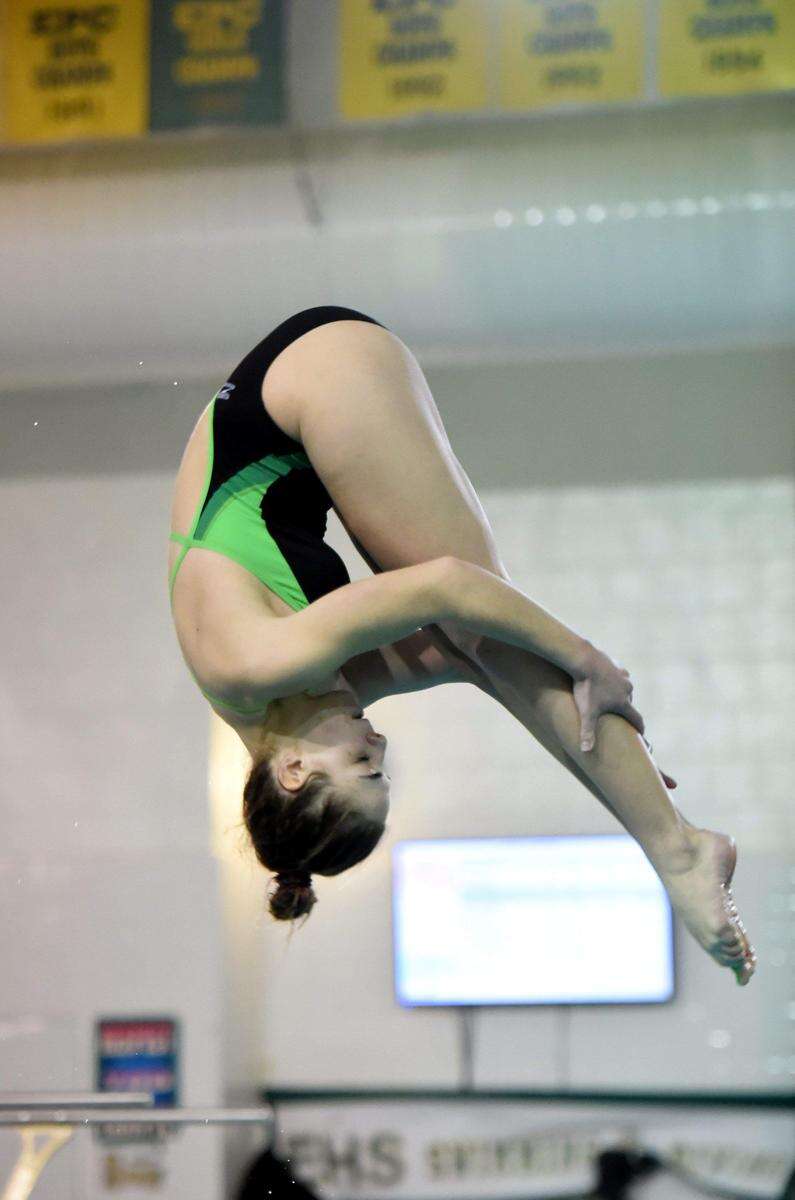 Published February 25. 2015 11:00PM
There are a lot of local divers who will be glad to see Nicole Sagl head off to college next fall. For the fourth straight season, Sagl, who attends Central Catholic High School, captured the Class AA District 11 Diving Championship and did it in grand style, setting both an Emmaus High School pool record and a new Class AA district record with a final score of 511.10.
Sagl led the entire way and was well ahead of Southern Lehigh's Erin Donnelly, who finished with a score of 386.45, good enough for second place and a trip to the PIAA Championship next month at Bucknell University.
In her fourth trip to states, Sagl is looking to continue her trend of improving on her finishes. Sagl finished sixth as a freshman, improved to fifth as a sophomore and finished third last year at Bucknell. Perhaps, the fourth time will be the charm for Sagl.
"I'm definitely pretty confident," she said. "I know coming in after placing there my last three years, it's great to see the competition that comes out and to be able to try my best."
Sagl hasn't decided on a college yet, but perhaps because she's so familiar with the place, Bucknell is one of the schools on her short list.
The scoring was aided slightly by a change in judging the difficulty of dives. The National Federation of High Schools changed their difficulty range for dives to bring them in line with those of both the NCAA and USA Diving.
Sagl was also awarded the Dennis A. McGinley Award as the highest scoring diver in the District 11 Championships.
Setting the district record is something that means a lot to Sagl, because it puts her in a class with one of her diving idols. The previous district record was held by another Central Catholic grad, Catherine Rose.
"It's pretty much a dream," said Sagl. "I grew up around Cat Rose and it's always been a dream to beat one of her records, so it's great to come out at my last districts and beat it."
Rose won the PIAA Class AA title three times during her high school career, with gold medals in 2008, 2009 and 2010.
Coming into the meet, Sagl wasn't only confident, but she knew from her performance in the EPC Diving Championship that she could certainly have a shot at besting the district record.
"At the last EPC meet I had a score of 504, so I knew that I had a chance of beating it, but I wasn't sure that it would be today," said Sagl, who lives in the Northwestern School District. "I knew it would depend on what type of day I had."
Donnelly and Sagl will both compete in states at the Class AA level, while Emmaus' Jess Hurlburt and Easton's Kelsey Jehl will represent District 11 in the 3A classification. On the boys side, Salisbury's Dennis Bonner and Tyler Keller will represent Class AA, while Parkland's Chris Lehman and Nazareth's Steve Stasolola will compete in AAA.
Swimming districts will be held this weekend at Parkland High School. The state swimming and diving champinoship meet runs from March 11-14 in Lewisburg.