Boys clinch D-11 berth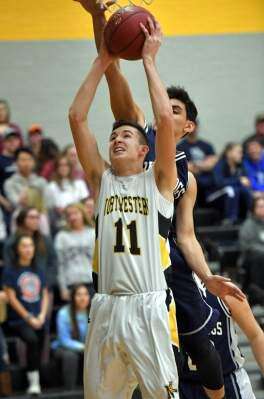 Published January 31. 2018 11:00PM
When Northwestern Lehigh (8-7 Colonial, 11-8 overall) downed Palmerton last week, it was a bigger win than it may have appeared to be on the surface. It was the 11th win of the season for the Tigers, meaning that they clinched a spot in the District 11 Tournament for the first time in 10 years. The win, coupled with one the night before over rival Northern Lehigh meant that the team had met one of tits goals coming into the season.
While the win over Northern Lehigh (7-8, 10-9) moved the Tigers a game closer to clinching, it also kept the Bulldogs from earning a spot in the district playoffs, at least temporarily. Northern Lehigh is still one win shy of reaching districts, which they haven't been able to do in a couple years, as well.
"I think this is one of our biggest wins this season," said Northwestern's Brandon Mengel after the win over the Bulldogs. "Because we stopped our rivals from getting to districts and we're one step closer to leagues and we're one step closer to districts and we haven't been there in a long time. Our goal is to get to districts and once we get there, we're going to play our game and just keep advancing and advancing."
As for a spot in the Colonial League playoffs, Northwestern is still battling and could use a little help. At 8-7 in the league, Northwestern is just behind Southern Lehigh (8-6) for the final spot in the league's postseason playoffs. Northwestern's final two games are against Salisbury (3-10, 3-14) and Catasauqua (11-5, 12-7).
The tough part is that the Tigers are without big man Luke Hallman for the rest of the season. Hallman tore his ACL and will have surgery next week, putting him out for not just the regular season, but for the postseason.
Mengel, a junior, has been given the responsibility of taking over Hallman's spot in the lineup, and while he's a different type of player, he's been up to the task and has played well. There's no denying that the team will miss Hallman, but Mengel isn't feeling any pressure to replace him.
"The first game was like 'all right, I'm starting, here we go.' But now, I'm just playing my game and moving ahead," said Mengel. "[Hallman] is a great kid and can body everything and we're going to miss him, but we have to work through it. He's still around and we're playing for him and we're just doing a great job."
Deven Bollinger, a sophomore, has looked to be more active on the boards to replace some of the rebounding that the team will miss without Hallman. Just as Mengel has filled in well with his new responsibilities, Bollinger has stepped up to be a force on rebounding.
"We aren't hanging our heads thinking that we're done without Luke," said coach Billy Hallman. "We're not a team of just one or two players and everybody just has to keep doing what they've been doing. Brendon is playing well and Deven's able to get inside and pull down some rebounds, so we'll be okay."
Mengel and Bollinger found that they can complement each other well in the win over Northern Lehigh. Bollinger worked for inside shots, but when they weren't there, he was able to get the ball outside, many times to Mengel, for an open outside shot.
"We tried to pound the ball inside because we knew that it would open up everything else and Brandon Mengel stepped up and hit some key shots tonight," said coach Billy Hallman. "He just goes and plays and does a great job, and he brings a lot of energy, which is what we need."