Foundation celebrates new Distinguished Alumni inductees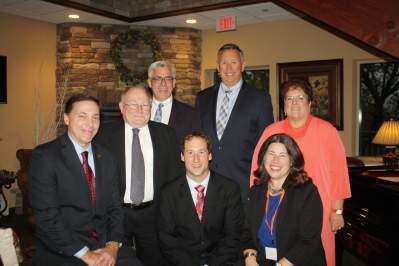 Published June 19. 2019 12:00AM
The Northampton Area Konkrete Kids Educational Foundation held its second annual Distinguished Alumni award celebration April 26 at Woodstone Country Club, Danielsville, to honor seven outstanding graduates to be inducted into the Distinguished Alumni Wall of Honor.
The 2019 Distinguished Alumni Wall of Honor inductees include Dr. Rodger Berg, Class of 1964; Bruce Lack, Class of 1969; Dr. Stephen Ressler, Class of 1975; Charles Hangen, Class of 1975; Tina Pagotto, Class of 1993; Travis Mohr, Class of 1999; and Dale Newhart, Class of 1943.
Berg is a professor at DeSales University, member of Northampton Exchange Club and is a church and community leader. Lack is an entrepreneur who worked as president and owner of several businesses as well as being a community volunteer and sponsor. Ressler is a retired brigadier general and works as a professor at Lehigh University. Hangen is the executive vice president and COO of ESSA Bank and Trust in addition to volunteering in the community. Pagotto is the CEO of Bethesda Project, Philadelphia. Mohr is a civil engineer and a U.S. Paralympic gold and silver medalist. Newhart was the superintendent at Allentown State Hospital and volunteered in the community. Newhart was honored posthumously.
The highlight of the evening was the recognition program and the induction of the honorees into the Distinguished Alumni Wall of Honor. The personal and professional post high school graduation achievements of each inductee, as well as each honoree's individual commitment to community service and volunteerism, were shared with the guests. Each honoree was presented with a plaque featuring professional achievements, a commitment to community service, a recent photo and a high school graduation photo.
The inductees then had the opportunity to share with the audience their experiences as students in the Northampton Area School District that influenced their postgraduate lives. Their recollections of specific teachers and classes were particularly noteworthy and entertaining.
During the program, remarks by NASD Superintendent Joe Kovalchik focused on the achievements of the district and the cooperation with the foundation to enhance the educational opportunities for all students.
Three members of the 2018 inaugural group of honorees, Paulette Fritz, the Rev. Clark Kuntz and Ed Pany, also joined in the festivities.
The Northampton Area Middle School choral groups, the Naturals and the show choir, and the Northampton Area High School Strolling Strings entertained the honorees and guests during the evening. A display of NAHS student artwork and a student-produced slideshow of foundation-supported activities provided a backdrop to the festivities.
The success of the celebration as a fundraiser is credited to the support of the community and the sponsorships of St. Luke's University Health Network, Lack, ESSA Bank and Trust, Schisler Funeral Home, Northampton Exchange Club, Embassy Bank, Horwith Trucks, Joan Snyder Kuhl, Reichel Funeral Home, Shulman Law Office, Fella Studios, NAHS Principal Luke Shafnisky and his staff and students, NAMS Principal Patrice Turner and her staff and students, numerous contributors and generous donors to the raffle held during the celebration.