Freedom tops EHS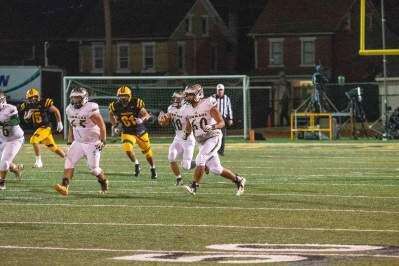 Published November 07. 2019 11:00PM
It wasn't a historic passing night for Freedom and it wasn't a mercy-rule victory, but it was enough to push the Patriots into the District 11 Class 6A semifinals following last week's 42-21 win over Emmaus.
Instead of passing at will on the Hornets like Freedom did during their regular season encounter, the Pates (10-1) churned out 243 yards on the ground and five rushing touchdowns to eventually pull away from a feisty Emmaus (5-6) squad.
While the running game was working for Freedom last week, the Patriots needed a timely defensive play to provide a cushion from a mostly back-and-forth affair, when Jalen Stewart punched the game's final score with a 60-yard interception return for a touchdown with 7:42 left in the third quarter to build the Pates three-score advantage.
"I think the pick-six gave us a three-score lead in the second half, that certainly helps," said Freedom head coach Jason Roeder. "Jalen made plays on offense for us all night and then made a big defensive play. He's been great for us all year."
Stewart shined on the ground throughout the night, compiling 189 yards and two first half scores (one-yard and 57-yard TD runs), while his running mate, Matt Russin, added 50 yards and two rushing scores as well.
Emmaus actually grabbed the lead in the first quarter following a three-yard TD run by Brandon Camire (86-yards). The Patriots then proceeded to run 21-straight points, before Jake Moyer threw a 23-yard TD to Jameel Sanders to make it 21-14.
Freedom marched down field on the ensuing drive and punched it from a yard out with Stewart only to see Camire return the following kickoff 82-yards to make it 28-21 heading into the half.
With Emmaus on Freedom's heels all night, Russin's four-yard TD run in the third put the Patriots up two scores, before Stewart's pick-six was the final gut punch.
"Seems like we see them [Emmaus] a lot every year and they always give us battles," said Roeder. "They make you defend every part of the field and we're happy to be moving on."