BREAKING NEWS: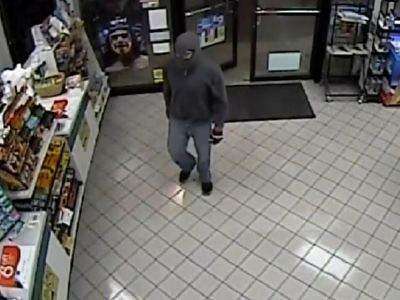 Published April 27. 2017 12:00AM
Upper Macungie police are investigating an armed robbery that occurred at the Exxon/Top Star Express, 7739 Hamilton Blvd, Trexlertown.
According Upper Macungie Criminal Investigations Division Commander Lt. Pete Nickischer, officers were dispatched 11:43 p.m. April 24 for a report of a robbery that had just occurred.
Police say according to an employee at the store, a male suspect entered the store and pointed a black, semi-automatic handgun at the employee, and then demanded cash.
The suspect is described as a Caucasian male approximately 5 feet 7 inches tall weight approximately 130-140 pounds with a gray mask and sweater.
After taking the cash, the man fled in a gray SUV, which was described as possibly being a Nissan, police say.
The suspect drove north toward the intersection of Hamilton Boulevard and Trexlertown Road before making a left onto northbound Trexlertown Road.
There were no injuries reported, police say.
Anyone with information about this robbery is asked to contact Detective Darren Simmers at 484-661-5911, or dsimmers@uppermac-pd.org.
Callers can also use the Upper Macungie Township Police Department Tip/Text line at 484-273-0336.
All information provided will remain anonymous.